Maia and I (mostly I) made our advent calendar over Thanksgiving, using the watercolor resist paintings from last week. It's a paper doll chain with an artful holiday activity written on the back of each apron.
Christmas is one of my favorite times of the year. Last year we weren't able to do much in the way of celebrating for various reasons, so I'm especially excited to enjoy the holiday with my family this year! And excited about this advent calendar and all the activities I included!
I'll share with you how I made the calendar, in case you'd like to do something similar, and the activities that I included on mine.
First I cut each of Maia's seven paintings in half and she helped me glue them in two long strips, edges overlapping. I could have done just one strip, but thought two shorter ones would be easier to work with. We pressed the strips under heavy cookbooks while the glue dried.
Note: I don't generally like to alter Maia's artwork like this, but in this case she knew from the beginning that these paintings were going to be for her advent calendar.
We then folded the strips of paper accordian style.
I sketched a doll to fit,
Traced her onto the paper,
And started cutting. Because of the heavy watercolor paper, I only cut about three layers at a time, then retraced the doll and cut some more.
I then had two paper doll chains that I glued together to create one long chain. I trimmed off a doll or two so I'd have 25.
I decided to use paper aprons for the dates and the activities. I wrote the day of the month on the front and the activity on the back, then glued the aprons on using a thin strip of glue at the top. Each morning I will let Maia pull off the apron and we'll read what our activity is for the day.
By the way, if you wanted to make a quicker version of this paper doll chain, you could use colored construction paper attached with tape.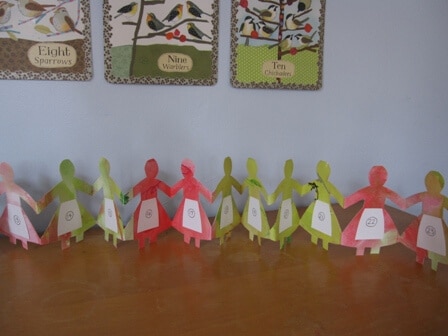 Here's our advent activity list:
1.      
Make Christmas cards with styrofoam prints.
2.      
Cut out paper snowflakes and make a mobile with
the snowflakes.
3.      
Feed the birds and draw them.
4.      
Make salt dough ornaments with the art group.
5.      
Go to the Christmas tree farm and choose our tree.
6.      
String popcorn and cranberries and use them to
decorate our tree.
7.      
Make stained glass stars for the windows.
8.      
Go for a winter nature walk and collect items
for our nature table.
9.      
Make a winter nature table.
10.  
Paint small canvases to give as gifts.
11.  
Do glue batik with the art group.
12.  
Make and decorate a Christmas stocking for
Daphne using glue batik.
13.  
Have a family art night and make a holiday mural
(on paper).
14.  
Make and decorate a gingerbread house.
15.  
Try melted crayon paintings.
16.  
Make candied and spiced nuts together.
17.  
Write a letter to a friend or family member.
18.  
Finish glue batik with art group.
19.  
Make hot chocolate and play games.
20.  
Donate old toys to Goodwill or another charity.
Go shopping for a new toy to donate through a local charity.
21.  
Have a friend over to make and decorate
Christmas cookies together.
22.  
Create a piece of crazy art with five different
kinds of art materials. (just for fun!)
23.  
Make popcorn and watch a Christmas movie
together.
24.  
Go for a drive to look at Christmas lights.
25.  
Merry Christmas!