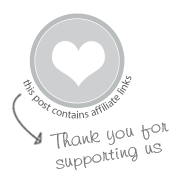 Art with toddlers is all about exploring the materials and the tools and what they can do with them. When painting they may want to feel the texture of the paint, taste it, and experiment with different ways of applying it to the paper or their body.
And it's the same with drawing or any other art—the materials and tools are explored as much as art is made.
Here are a few photos of Daphne, 17 months, from a day of toddler art in our home ::
Dabbing with the Do-A-Dot markers in a sketchbook.
Trying the lid in her mouth (don't worry, I was supervising closely the entire time!).
Practicing putting the lid on and taking it back off.
Inspecting my pen closely and testing the tip with her finger.
Exploring the pen with her mouth.
Scribbling with the pen.
Tasting the water that she had just painted onto the paper.
Note: the paper is brown kraft paper that was included in a package we received. I taped it up on the fridge as a temporary art-making spot.
Painting with a brush on the fridge "easel."
Feeling the paint with her hand.
And then applying the paint with her hand (instead of the brush).
Repeat above performance the next day and the next…
More Posts about Toddler Art