Looking for arts and crafts ideas for the children in your life? These great new art activity books for kids are filled with hundreds of creative activities you can do at home or in a classroom environment!
I love checking out new books filled with arts and crafts ideas and other creative activities to do with the kids. There's so much potential inside them!
In my mind's eye I imagine afternoon after afternoon of happy creating. I see activities that I know will inspire us, bring us together, and that will be fun to make while adding to our repertoire of ideas and techniques.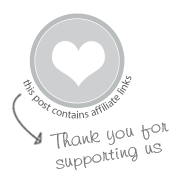 There's a stack of new (and newish) kids' activity books on my coffee table right now that I'm excited about and want to share with you.
9 New Arts & Crafts Activity Books for Kids
These books are all from the past year and include all kinds of creative activities for kids in both home and classroom situations, including art activities, craft projects, and more. Here goes, in no particular order…
Book #1: Stitch + String Lab for Kids
GET THE BOOK: Stitch + String Lab for Kids: 40+ Creative Projects to Sew, Embroider, Weave, Wrap, and Tie
Stitch + String Lab for Kids is such a fun book full of creative projects to make with fabric, yarn, and thread by the inspiring art teacher and blogger, Cassie Stephens, who is the Ms. Frizzle of the art classroom. I can't wait to try the Beginner Embroidered Suncatcher, the Radial Embroidery with Dyed Fabric, and the Rainbow Pompom Necklaces!
BOOK #2: Easy Paper Projects
GET THE BOOK: Easy Paper Projects: 60 Crafts You Can Wear, Gift, Use, and Admire
Easy Paper Projects is a book full of cool things you can make with paper by my friend Maggy Woodley, the author of Red Ted Art. These are step-by-step paper crafts rather than the process art I'm usually drawn to, but I was surprised at how many of the projects I wanted to try (and I know the kids will absolutely love them). I bookmarked more projects in this book than in any other, including the Badger Notebook, Arty Paper Luminaries, Pop Up Cards, Heart Notebooks, Kirigami Butterflies, and Pennant Banner Gift.
Book #3: Collage Workshop for Kids
GET THE BOOK: Collage Workshop for Kids: Rip, Snip, Cut, and Create with Inspiration from the Eric Carle Museum of Picture Book Art
Collage Workshop for Kids is a lovely book full of some of children's favorite activities—cutting, gluing, assembling, creating. Written by Shannon Merenstein of Hatch Art Studio in collaboration with the art educators at The Eric Carle Museum of Picture Book Art, there are so many great ideas and photos in here! Some I look forward to trying include Playing Dress Up, City Blocks, Newspaper & Watercolor, and Transparent & Opaque. I especially like the "Other Ideas to Try" section at the end of each workshop with ideas for variations and experimenting.
Book #4: Sticks and Stones
GET THE BOOK: Sticks and Stones: A Kid's Guide to Building and Exploring in the Great Outdoors
Sticks and Stones is a book full of outdoor play, building, and creating by Melissa Lennig, the founder of Fireflies and Mud Pies. Her family's motto is "Outdoor Play Every Day," and it shows in this book full of inspiring ideas for playing in the backyard and creating with nature. I absolutely LOVE the Weaving Loom Fort, the Nature Blocks, and the Crafty Stone Pendants, but the book also shows you how to make a simple seesaw, build a campfire ring, and fashion a simple stick fishing pole.
Book #5: Cardboard Creations
GET THE BOOK: Cardboard Creations: Open-Ended Exploration with Recycled Materials
There are so many awesome things kids can make with cardboard!! Box Cities, Bumpy Collage Walls, Artsy Playhouses, and Cardboard Animals, just to name a few. Cardboard Creations, a book, by my friend Barbara Rucci of Art Bar Blog, who also wrote the excellent Art Workshop for Children. Besides all the cardboard awesomeness, she has lots of ideas for other recyclables as well, including collecting, storing, and creating!
Book #6: Play Make Create
GET THE BOOK: Play Make Create: A Process-Art Handbook with Over 40 Art Invitations for Kids
I've written about this lovely book by my friend Meri Cherry, already, but need to include it in this list as well. Play Make Create is full of so many inspiring creative activities and photos! We did the Ice Sculptures here, but there are lots of other projects on our list, including Paint Your Family Photos, Sticky Party Mural, Big Self-Portraits, and Magic Potions.
Book #7: Beautiful Stuff from Nature
GET THE BOOK: Beautiful Stuff from Nature: More Learning with Found Materials
Beautiful Stuff from Nature is written by and for early childhood educators, but with so many gems for family creativity as well, this book shows how to help kids learn from, be inspired by, and create with the natural world. This book was edited by Cathy Weisman Topal (who wrote the piece on Exploring Clay with kids in my Artful Parent book) and Lella Gandini.​ Some of the ideas I am especially excited about include sticks and colored gems on the light table to create trees, name sculptures with natural materials, collaborative nature mandalas, cloud painting, and observational drawing of snowflakes.
Book #8: Draw, Paint, Sparkle 
GET THE BOOK: Draw, Paint, Sparkle: Creative Projects from an Elementary Art Teacher 
Written by Patty Palmer, art teacher and blogger behind Deep Space Sparkle, Draw, Paint, Sparkle is full of drawing and painting activities that are perfect for the school OR home environment. Patty combines step-by-step drawing instruction for kids (in the style of Mona Brookes) with the encouragement to add their own personal creative touches. Plus she has an excellent section on how to host an art show. The activities I most want to try with my kids are Octopus Line Drawing, Symmetrical Beetles, and James Rizzi Cardboard Cities.
Book #9: The Artful Parent
GET THE BOOK: The Artful Parent: Simple Ways to Fill Your Family's Life with Art & Creativity 
I have to include my own book here, too! Besides all the info and tips on making space for art, gathering art materials, using art invitations, and encouraging drawing with confidence and creativity, there are over 60 of our favorite kids art activities in The Artful Parent book! Try Bubble Prints, Melted Crayon Art, Black Glue Stained Glass, Paint a Cake, and DIY Geoboard Art. Thank you SO much to everyone who helped make my book launch so successful this summer! I am forever grateful!
I hope you are inspired to pick up one or more of these kids activity books at the bookstore or library to fuel your family creativity!
At first, I was going to simply list the books (in my Weekend Inspiration email newsletter), but got carried away as I wanted to share what I thought was special about each of them so then I decided to add photos and turn this into a blog post as well!
If you know of any other new kids arts and crafts books that you think I should add to this list, please leave a comment below!
Happy reading and creating!
Xo,
Jean
Pin It for Later