Crayons are the ubiquitous art material for young children, right? If there's one art material every family has on hand, it's probably crayons. But as widespread as they are, I don't feel they are one of the best art materials for toddlers.
Why not?
You have to press hard to get bright color, the paper wrapper is a pain, and the skinny crayons just break so quickly.
So, what are the best art materials for toddlers?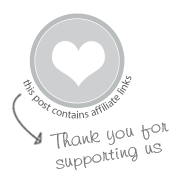 1. Washable markers, perhaps the little Crayola Pip-Squeaks, although my kids both loved the regular-sized markers as well when they were toddlers. We keep our markers in a plaster marker holder as a toddler-friendly way to keep track of lids and markers. You can also buy a wooden marker holder for the same purpose.
2. Crayola Twistables Slick Stix
These are awesome for toddlers—much better than crayons—because they glide on smoothly with little pressure and the color is vibrant. They are basically oil pastels in a hard plastic case, making them easy to grip. You just twist up the pastel as you need more. This generally makes them less likely to break than traditional oil pastels
(which we also love), but we have had them break on us occasionally, especially if they are twisted up too far.
3. Playdough. We love homemade playdough!—and this no-cook recipe is fast and easy—but if you're not going to make it, give this playdough
from Discount School Supply a try.
4. An Easel is a great way to let toddlers work standing up, as they do best, and to create a simple dedicated art space at the same time (a kid-sized table works well, too.) We've had our Melissa and Doug Easel
for eight years now and still love it. I think its the best value out there for a children's easel. Be sure to get paper for it. We like the easel paper rolls
from Discount School Supply the best, but Melissa and Doug paper is okay. If you really want convenience, they sell an easel accessory kit that includes paper, spill-proof cups, and lots more.
5. Spill-proof paint cups
– Keeps the paint off the table (floor, lap…) and also keeps it from drying out.
6. Chubby paint brushes, such as these jumbo paint brushes
by Melissa and Doug, are great for little hands. We also really love these Stubby Chubby brushes
.
7. Chalk (I like Melissa and Doug jumbo triangular chalk sticks
—they are not as small and breakable as the skinny little pieces sold for chalkboards, but not as huge as sidewalk chalk). If you don't have a chalkboard, you can use chalkboard paint on a wall or simply buy a chalkboard wall decal.
8. Colorations Simply Washable Tempera Paints
If you're only going to buy one kind of paint, this is what to get.
9. Colorations Washable Finger Paint
You can use tempera paint with your fingers, but finger paint has the perfect smooth texture for smearing around on paper and it stays moist for much longer.
10. Colorations Liquid Watercolors
Because they are just gorgeous and vibrant. The traditional watercolor cakes are not ideal for toddlers; liquid watercolors are easier for them to use.
11. A bottle of squeeze glue.
Yes, they will squeeze and squeeze until there is a puddle of glue on their paper, but they will have so much fun doing it, and the glue is so cheap, that I think you ought to let them. Besides, it's a good hand-strengthening exercise and helps with motor control. And you can bring out the collage materials to stick in the glue. If the normal size squeeze bottle is too hard for them to squeeze, try a mini bottle.
12. Colored Pencils These colored pencils are jumbo-sized, and even the little ones can get a good grip on them. They have a child-friendly design that helps with motor skill development and soft lead that is safe for little ones. Another bonus? They are ultra-washable and easily wash from skin and most fabrics.
Other Toddler Craft Supplies
Here are a few other toddler art supplies you might want to have on hand for a rainy day.
13. My First Scribble Pad This scribble pad by Alex Discover has activities on each page, encourages activity, and is ideal for children two years of age and older. There are fifty pages and 69 stickers for them to discover too.
14. Natural Crayons If you are like me and have finally come around to crayons, why not try these Honeysticks – beeswax crayons? They are made from 100% pure beeswax and are safe for toddlers. They are non-toxic, have a chubby shape that is easy for young children to grip, and are virtually unbreakable. Even parents will love the smell and not think twice about ditching the regular wax crayons.
15. Waterproof Art Smock This waterproof art smock by Bumkins Kids will keep your kids free from messes when they are experimenting with all their new art supplies. The smock fits children three to seven years old. They are waterproof, easy to wipe down, lightweight, and stain and odor resistant.
16. Art and Craft Supply Kits In addition to markers, crayons, chalk, watercolors, and fingerpaints, kids also love to do arts and crafts projects with pipe cleaners, tissue paper, scissors, and a glue stick. To get your kids started on their road to creative expression, check out this art and craft supply kit by FunzBo.
It has everything your kids need to create and imagine, and it all comes in a convenient reusable plastic jar for easy storage. It contains glitter glue pens, metallic color pom poms, standard pom poms, and mixed colored buttons, along with various other things you see pictured, including child-safe scissors, pipe cleaners, feathers, and more.
What Are Your Toddlers' Favorite Art Materials?
(Or what were they, when your kids were toddlers?)
P.S. Despite the title, we have come around to crayons with child number 2, and I wrote a post about crayons for toddlers and creative drawing with young children that you might be interested in reading.
P.P.S. For more about art with toddlers and the best toddler art supplies, see my post on 7 Simple Art Activities for Toddlers.
Pin it For Later