The best art supplies for toddlers with our tried and true recommendations. Visit The Artful Parent Amazon shop for even more toddler art materials! Original post by Jean Van't Hul with updates by Rachel Withers .
Updated May 2021
Are you looking for the best art materials for toddlers? As a parent it can feel overwhelming knowing where to begin and what art supplies you really need for this stage.
These are The Artful Parent's top recommendations for toddler art supplies, the ones that we've used with our own kids and at art classes over and over again. It goes without saying, that the art materials must be durable and vibrant (the latter provides a satisfying art experience for young children).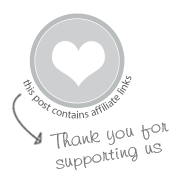 Toddler Art Materials
Kwik Stix are awesome for toddlers and come with our most enthusiastic recommendation. Tempera paint sticks are encased in a plastic case. They glide on smoothly with little pressure and the color is SO vibrant. These work great on paper and cardboard and are a wonderful easy painting option.
2. Playdough
We love homemade playdough! This no cook playdough recipe is fast and easy to make AND totally customizable for color and smell. Or try our cooked playdough recipe which lasts practically forever.
And if you're looking for playdough to buy, we recommend Colorations playdough. We also highly recommend this playdough tool set!
If you're only going to buy one kind of paint, this is what to get. Use it for every day paint on paper, cardboard and poster board.
Because they are just gorgeous and vibrant. The traditional watercolor cakes are not ideal for toddlers; liquid watercolors are easier for them to use. These are long lasting and useful for a variety of art and science activities.
Yes, toddlers will squeeze and squeeze until there is a puddle of glue on their cardboard or paper. BUT they will have so much fun doing it, and the glue is so cheap, that it's 100% worth it.
And remember, this is also a good hand-strengthening exercise that helps build fine motor skills. If the normal size squeeze bottle is difficult for your child to squeeze, try a mini bottle.
These are somewhere between a regular crayon and an oil pastel in hardness and come in a hard plastic case making them easy to grip. Just twist up the pastel as you need more. The neon version is especially bright and colorful!
Kids can use tempera paint with their fingers, but finger paint has the perfect smooth texture for smearing around on paper and it stays moist for much longer.
Oil pastels are easier for toddlers to create vibrant marks and make a nice crayon substitute. A team favorite is Crayola's neon oil pastel which are long lasting and bright.
9. Chalk
We love Crayola sidewalk chalk––the colors are so vibrant and really show up on the pavement!
If you don't have a chalkboard, you can use chalkboard paint on a wall or simply buy a chalkboard wall decal.
One of the art materials most frequently requested by our kids, it's great to touch and play with on its own. Or add in some little plastic toys or resin shapes. My toddler is mesmerized by kinetic sand and loves sifting it and watching it slowly move.
11. Washable markers
Washable markers like the little Crayola Pip-Squeaks, although my kids both loved the regular-sized markers as well when they were toddlers. We keep our markers in a marker holder as a toddler-friendly way to keep track of lids and markers.
A note about crayons…
Crayons aren't at the top of our list for toddlers due to the hand strength and pressure needed to achieve vibrant marks.
But there are a few brands that we highly recommend for kids. We love the Brilliant Bee crayons. And Faber-Castell Beeswax crayons in a carry case are excellent.
Honeysticks Beeswax Crayons are made from 100% pure beeswax and are safe for toddlers. They are non-toxic, have a chubby shape that is easy for young children to grip, and are virtually unbreakable.
Toddler Art Tools for Success
1. Paint brushes
Try toddler paintbrushes such as these jumbo paint brushes by Melissa and Doug, are great for little hands. We also really like these Stubby Chubby brushes.
Keep the paint off the table, floor and even your lap! Put the lid on after a painting session and the paint won't dry out, allowing for future use.
These are very helpful to contain the mess and make for a much easier cleanup. Take art projects outside easily or create a clearly defined art space for kids. We highly recommend!
Use an art smock or old T-shirt to protect clothing. Or you may wish to have a dedicated art outfit that if paint stains, it's no big deal. When purchasing an art apron or smock there are a few things to consider:
Sizing––is it for toddlers, preschoolers or big kids?
Fabric––A waterproof fabric is helpful and easily wipes down or rinses off in the sink.
Style––Most art smocks come in three choices: long sleeve, apron or sleeveless. Try to choose a style that works for your child and won't hinder his/her movements.
Easels provide toddlers with a great way to work standing up (as they do best). It automatically creates a simple dedicated art space at the same time.
Jean's family has used the Melissa and Doug Easel for years now and believe its the best value out there for a children's easel. Be sure to get paper for it. We like the easel paper rolls from Discount School Supply the best, but IKEA's easel paper and Melissa and Doug paper is also okay.
And if you're looking for convenience, try this easel accessory kit that includes paper, spill-proof cups, and lots more.
Favorite Toddler Craft Supplies
Here are a few other toddler art supplies you might want to have on hand for a rainy day.
Paper rolls can be used with an easel or laid out on the floor for big drawing activities. We also recommend brown butcher's paper or white paper) to work big.
If you don't have an easel, then roll out a length of paper on the floor or cut a big piece to tape onto the back of a door. For more paper recommendations see Choosing Paper for Children's Art.
These are fun for creating collage art and are particularly easy for toddlers to peel and stick onto paper.
Pom poms are great in sensory play bins or for collage projects (when your toddler is squeezing all that glue). Pipe cleaners make an easy sculpture material to manipulate.
Melissa & Doug's large stamps and stamp pad are a fun and easy art activity to set up for toddlers.
Use Con-tact paper for easy nature collage art or suncatcher art for kids. There are so many ways to use this!
Toddler Art Ideas & Resources
The Artful Parent Amazon shop is filled with our top recommendations for kids art supplies and an entire board for art materials for toddlers.
Sign up to receive a FREE printable with the BEST Art Materials for Toddlers. And visit The Artful Parent toddler art page for lots of toddler art ideas!
Pin it For Later