The BEST art supplies for preschoolers plus The Artful Parent's favorite art tools and craft materials to get started creating at home!
Your preschooler is growing and exploring so much, it's hard to know the best way to keep up!
Luckily, here at The Artful Parent, we have many years of experience working with this unique age group. Here's our top recommendations of our favorite art supplies, tools, and craft materials that are sure to get your kids creating and having fun.
During the preschool years, children are gaining skills at a rapid pace. Kids can now use a wider range of art materials and may be more interested in working on more complex projects.
All children are different, of course, so make sure you observe your child's interests and let them take the lead. New to "artful parenting?" Check out the supply list below and How to Be an Artful Parent to learn how to better foster creativity in your home!
Art Supplies for Preschoolers
1. Paint
We love the way Discount School Supply's Biocolor paints work on just about any surface (paper, plastic, wood, cardboard…) and won't dry with cracks like some other tempera paints will.
We're also huge fans of their Colorations fluorescent tempera paint. Those colors just POP off the page and are so fun to work with!
2. Watercolor paints
Liquid watercolor paints are so versatile! Your preschooler will love the vibrant colors while painting, but they're also perfect for fun projects like marbling with shaving cream.
Preschool-aged children are old enough to start using watercolor palettes as well. Of course, neon colors are always a hit, but how about adding a multicultural palette to your collection as well?
3. Tempera Paint Sticks
Kwik Stix are one of our most favorite art supplies for any age group. Solid tempera paint encased in plastic, these little modern miracles are vibrant, fun to use, and washable!
4. Oil Pastels
Oil pastels should be a staple in any art cabinet. We love their bright colors, and they're perfect for using in combination with other art supplies (watercolor resist is an all-time favorite for this age group!).
5. Chalk
Chalk is perfect for creating temporary masterpieces outside or on a chalkboard, but we also love it on black paper or for process art projects like this one. Or try dipping your chalk in water for a totally new effect! Chalk is a versatile art supply like that is definitely worth having around. These Wonderstix are a chalk/crayon combo that writes on anything and are perfect for preschoolers!
6. Washable Markers
Kids love markers for a reason – they're easy to use and totally vibrant! Crayola's Ultra Clean Washable Markers really do clean up well and have great color saturation, so we can whole-heartedly recommend them. Plus, pairing markers with their lids is a great way to practice color matching and strengthen fine motor skills.
And if you're worried about markers drying out, Magic Stix markers (from the makers of Kwik Stix) last for days without a cap on – and you can trust us because they've been put to the test in our homes!
7. Playdough
Your preschooler will love to help you make your very own playdough! Our favorite no-cook recipe is great for little hands and totally customizable. Or try our cooked playdough that will last for ages.
Not interested in making your own? We recommend Colorations playdough and this playdough tool set!
8. Kinetic Sand
This sensory material is such a hit with kids of all ages – totally mesmerizing and fun to play with, it's a great addition to any art cabinet.
9. Colored Pencils
Did you know that working with colored pencils is a great way to help your preschooler develop their writing skills? It helps them practice their pencil-grip and strengthen all those fine-motor muscles they'll need in the upcoming years. We especially love Faber-Castell's World Color Pencils which includes 6 blendable skin-tones, perfect for helping your children reflect themselves in their art.
10. Clay
A non-drying modeling clay like plastillina is a great sculpting material for the preschool set. It takes more strength than playdough, but kids can create more complex models too. Run it through a clay machine for extra fun. And when you're done, you can squish it all back together until next time!
Air dry clay is also a wonderful material to explore at this stage.
Preschool Art Tools for Success
1. Art mats or trays
When your preschooler starts creating, you'll definitely want a way to contain the mess! Art mats and trays keep paint, glue, and playdough contained and off the table.
2. Adjustable Easel
A good adjustable easel can take your child through many years of artistic fun. Easels for preschoolers allows them to stand (or wiggle or jump or spin around) and create at the same time.
The Melissa and Doug easel is a great value, and we love the paper rolls from Discount School Supply.
3. Paintbrush set
Your preschooler will appreciate some more "grownup" looking art tools, and they're definitely old enough to start using them! We love this set from Target's Mondo Llama brand that includes a variety of brush sizes and even a fun little roller!
4. Scissors
Not all safety scissors are created equal, and there's nothing more frustrating to a preschooler than scissors that won't actually cut. This pair from Discount School Supply will help your kids be successful learning their new scissor skills, and they work for either the left hand or right! Fiskars has a blunt tip scissor that works great as well.
5. Droppers
I've yet to meet a preschooler who doesn't love working with droppers! Budding scientists and artists alike will enjoy mixing colors and potions with these fun tools. Big handled droppers like these are easy to use for younger kids, while the older set might enjoy the more "official" looking droppers like these. Either way, they're sure to be a hit!
These are great fun for painting. Also fun brushes, foam bottle cleaners, fly swatters, scrubbers, q-tips, matchbox cars, flowers, pine boughs, etc.
Preschool is a great age to start introducing your child to hammering safely. We recommend using a wooden mallet to start and invite your child to hammer gulf tees into styrofoam. After graduating from this, kids might test out a kids hammer with the same materials. Then progress to hammering embroidery tacks or nails into wood. It's empowering to teach kids to use real tools, with adult supervision of course.
Pro tip: Eye protection is a must. This kids tool set comes with a set of goggles that are fully adjustable and stay put.
Favorite Preschool Craft Supplies for Kids
1. Paper
Having a good supply of paper on hand will ensure that your preschooler can create whenever the mood strikes. Big rolls of paper are great for your easel or rolling onto the floor and working large.
A good sturdy all-purpose art paper like this Ultimate Art Paper from Discount School Supply is great for drawing, painting, collage… just about anything!
2. Glue
Fun to squeeze and a must for collaging, kids love using classic white school glue. We also like to have glue sticks on hand for a less-messy and quicker drying alternative.
3. Colored Tape
Colored tape is so much fun to create with! Kids can use colored masking or washi tape to hold together their creations, frame their work, or make designs. Getting a tape dispenser like this one helps preschoolers work more independently (which you know they love!).
4. Collage Items
Pom poms, googly eyes, tissue paper, craft sticks, sequins…. Having a variety of collage materials on hand will inspire your preschoolers to make some amazing creations! Don't forget to save old art work for extra collage material as well. We love cutting up painted papers or using punches to create our own unique collages!
5. Beads
Beading can be a wonderful way for preschoolers to practice their concentration and fine motor skills. Beading with pipe cleaners is perfect for beginners, and makes this activity one that young kids can complete pretty independently. A big mix of pony beads like this one is relatively inexpensive and will provide hours of entertainment! The dollar store often carries wooden beads as well.
6. Coffee Filters
Transfer a stack of coffee filters from your kitchen to your art supply cabinet for all kinds of crafty fun! This absorbent paper is wonderful for experimenting with watercolor paints or combining washable markers and water. You can make snowflakes, butterflies, flowers… the list goes on and on.
For more preschool art supplies see The Artful Parent Amazon shop with an entire board dedicated to preschool!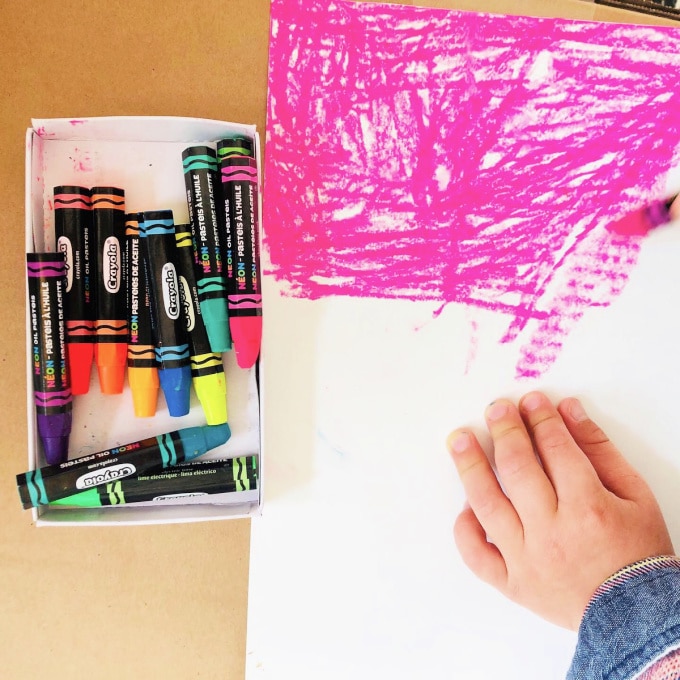 More Art Supplies for Kids
Pin It For Later