Looking for a super fun summer art activity for kids? Try this…
One kiddie pool + one large sheet of butcher paper + several balls dipped in paint
I've been wanting to try this large scale ball painting project with Maia for a while now and and am glad I finally did.
(We've done something similar on a much smaller scale with marble rolling.)
Here's how to do this awesome painting activity ::
Swimming pool ball painting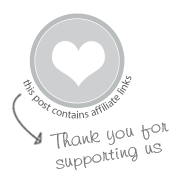 MATERIALS
Construction paper or butcher paper
Shallow dishes to hold the paint
Balls, assorted
INSTRUCTIONS
As set up, I taped a large sheet of paper to the bottom of our plastic swimming pool, poured tempera paint into cake pans, and found an assortment of balls–bouncy balls, a huge wooden bead, and musical egg shakers. Tennis balls, wiffle balls, and softballs would work great as well. You could also try this with large ones such as soccer balls or basketballs.
By the way, the paper we used is actually construction paper (literally) bought in a large roll from Lowes for $10 and very economical for large-scale artworks. We also use butcher paper, though, especially when we want white paper instead of brown.
First Maia and her friend Marlise covered the balls in paint.
Then they dropped the paint-covered balls in the swimming pool…
…and rolled them back and forth and all around by tilting the pool.
Of course they were soon adding hand and foot prints to the painting. And, since paint is slippery, bottom prints.
I sprayed them (and the swimming pool) off with the hose and thought they'd want to splash around in the pool afterward but they chose a warm bath instead.
It was definitely a fun summer art activity, though!
Have any of you tried painting with rolling balls or rolling marbles?
Pin It for Later ::