Today was a day for painting outdoors.
The weather was perfect, so I carried our kids easel
out to the backyard, added a new roll of paper
, and set out some tempera paint.
I put the paint in our new double-dip divided paint cups
that just came in the mail from Discount School Supply. Not sure if other companies make these or not. I haven't seen them around.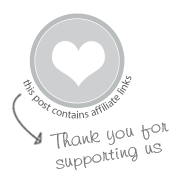 Materials for Setting Up the Kids Easel
I ordered them to use at the kids easel because Maia kept asking for more than just the four colors that fit in her other paint cups.
Now she often has very specific ideas of what she wants to paint and what colors she wants to use. And she knows how to keep the colors and their brushes separate (although she doesn't always choose to do so).
*Of course, you can also use regular no-spill paint cups at the easel! They work just fine.
These divided paint cups are great because they allow you to use twice as many colors of paint! The only problem is that the plastic on one of them was cracked. Hopefully this was a one-time issue and they are not prone to cracking. Luckily they came as a set of 5.
[Update: Discount School Supply quickly replaced the set for me. We've used these paint cups for years now and really like them]
Maia painted at the easel off and on throughout the day and we hung her paintings to dry on the chain link fence with clothespins.
Here's something I wasn't expecting—Maia is apparently still into painting her body! I love the rainbow circle on her belly and the painted fingers!
More Ideas & Materials To Try With Your Kids Easel
How To Set Up Art Spaces For Kids
Childrens Easel – 6 Ideas to Encourage Continued Interest For Kids
25 Best Kids Art Materials
The Best Tools for a Successful Kids Art Experience
Pin It For Later