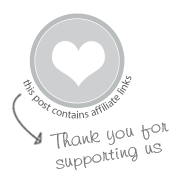 I'm a longtime photo book maker.
I made my first in an actual photo album—remember those?—with photos and sketches from my college study abroad semester in Madagascar. As soon as I had a digital camera, though, I started creating photo books online and thought it was the best thing ever.
I still do.
I mean, I get to upload my photos, choose the layout, and add text if I like and a beautiful, bound photo book gets sent to me in the mail.
Note: Montage (which I used for this book) is no longer around, but their sister company Mixbooks makes great books, too!
A photo book that my family can enjoy year after year. That can go on the bookshelf with our other books and photo books, that acts as a forever memento, and that even takes the place of bedtime story books for the kids sometimes.
(Do your children like to do that, too? Read photo albums like story books?)
Plus, with online photo books, I can order extra copies as gifts.
Last year, I was so pleased with the beauty and quality of the Montage photo book I created, that I ordered extra copies as holiday gifts for the grandparents and cousins.
Montage Books are easily the best quality photo books I've tried.
This year, when it was time to create another photo book, I knew what to expect.
I selected my photos, uploaded them, and then hit, "create my book."
Et voila! The Montage book is created like magic!
And once again, I was surprised at how well it did with the auto-magic* layout.
*My term, not theirs.
I changed some photos around and took some out, but also left some spreads as is.
I could have left it all as is and it would have been beautiful.
By the way, if you want to see the auto-magic layout in action, go to the Montage site and click "Take a Test Drive."
Pretty cool, eh?
You can try all the different background options, too, while you're there.
I'm usually a simple white background kind of girl, but I decided to try Montage book's new Rustic page background to go with my nature images.
My photo book themes this year are :: 
Family
The tapestry of life 
Nature
Transitions
I like the rustic theme background! And it works so well with my photos!
Although I really like the white and gold theme, too…
And the watercolors!
These Montage books cost a bit more than some of the other photo books out there, but the process is so quick and easy and, even more important, the finished product is beautiful and very high quality.
I definitely recommend giving Montage a try if you're looking for the best quality photo books and a quick process.
Pin It for Later