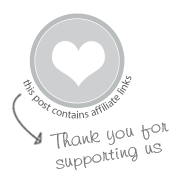 We always seem to place so much emphasis on the kids' art materials—the best paints and markers and such—and the kids art tools that are equally important get overlooked.
I do the same, I hate to admit, and this is my attempt to remedy the situation.
Here's my list of the tools we use to make the kids' art experience as successful as possible.
First, The Basic Kids Art Tools
Scissors – For making things the size and shape you want them to be.
Hole Punch – Kids LOVE punching holes! The regular hole punches that we all know can be frustrating for little hands to manipulate, though. Target has a new-ish Up and Up brand, one that is much more ergonomic and easier for the little ones. You can find it in the office supply section, it's cheap, and I highly recommend it!
Stapler – We use our sturdy little Swingline stapler all the time.
Tape and Tape Dispenser
– A sturdy and heavy tape dispenser can make getting (Scotch-type) tape much easier for little kids!
Masking Tape – For holding the edges of paper down, for tape resist art projects, for hallway hopscotches, for hanging art on the wall, and for collages. We use both regular masking tape
and colored masking tape
. Plus printed craft tape
.
Pencil Sharpener – We like this double pencil sharpener, because it works well for regular pencils and colored pencils (both thin and thick), is easy to use, and keeps the the shavings off the desk.
Eraser – We're suckers for fun erasers, like this selection at Stubby Pencil Studio, but for everyday art use, not much beats a good ole kneaded rubber eraser. A kneaded eraser can be shaped for more precision erasing. It can also be used to create highlights.
Glue – I put glue as one of our top ten art supplies yesterday, but it seems to be as much a tool for art as an actual art material so I'm adding it here, too. Besides the glue bottles
, we use glue sticks
, glue pens
, and a glue gun
.
Tools to Protect Your Furniture and Clothing
Art Trays
– We really like these art trays and use them all the time. I had my eye on them for a long time but kept putting off buying them because it seemed like a waste of money. It's totally not and we've used them nonstop since I finally did. These are well worth getting and really help keep the art messes contained. You could also just use an old rimmed cookie sheet, if you have one.
Art Mats
– Otherwise known as a placemat. In fact, you could easily just buy some cheap plastic placemats from Ikea or Target or someplace. We do that, too. These are good for protecting the table when you're drawing, doing a less-messy collage, playing with playdough, using clay, etc. In other words, when you don't think you'll need the rim of the art tray to keep glitter or paint from getting everywhere.
Update: We now own and use these larger art mats
and LOVE them. So worth it!)
Drop Cloth – You could spend $ on a proper drop cloth, or you could pick up a cheap waterproof tablecloth at the dollar store as we do. We have this Brawny Tough Keep-It-Clean Mat and it does the job, but it's stiff and better for the floor than the table. For the table, I either use an old tablecloth that I can pop in the wash or the above-mentioned vinyl tablecloth (which I've also been known to pop in the wash). There are other options out there, including this lovely spill mat, but I haven't tried them.
Art Smock – Make your own from a large T-shirt. Or just wear a large T-shirt. Most kids' art smocks are either apron-types that don't have any type of sleeve (and we know how little kids get paint everywhere) or have sleeves but are made of some stiff, crinkly waterproof material that hampers arm movement and that kids just aren't going to be comfortable in. If you want to buy one, I like this Crayola Tidy Top Art Smock better than some.
Drying Rack – You're gonna want to have someplace you can set the paint-y masterpieces while they dry. We have some wires strung across one of the studio walls (in between hook eye screws) that we use for hanging just-finished artwork with clothespins. You can see pics in my post about studio changes. We like this solution and have used it for years. However, for art that is extra paint-goopy, extra glue-y, 3-D, or involves foam paint/shaving cream, you need some sort of flat horizontal space. We usually set them on top of the washer or dryer (since our studio doubles as a laundry room), on the floor, or on the countertops (if we're working in the kitchen/dining room.
That said, one of these days I'd like to get an actual drying rack
. They just seem too darn expensive when the top of the dryer is free, though. I'd rather spend my money on art supplies.
Kids Art Tools for Transferring Paint to Paper
Paint Brushes – I haven't really found a paint brush that I truly love for kids' art. Except for these Stubby Chubby Brushes
for toddlers (so glad they're available again!). I must have conflicting criteria. I want something inexpensive, easy to use and clean, indestructible, and good quality. If you have one you love, please let me know!!! I need some new ones to try.
That said, here are some that we like better out of the brushes we've used: Colorations Plastic Chubby Paint Brushes
(inexpensive & easy to clean), Colorations Watercolor Brushes
(inexpensive, nice soft bristles, variety of sizes), Colorations Best Value Easel Paint Brush Assortment
(inexpensive, variety of sizes). I just bought this brush set, by the way, and am looking forward to trying it out.
Droppers
– Great for transferring liquid watercolor paint to paper, coffee filters, ice, baking soda, etc. We use these all the time for both art projects and science experiments.
Paint Cups – For holding paint during an art activity (especially good for working at the easel!) and then for storing extra paint until the next art activity. These no-mess paint cups are great basic ones. If your kiddo likes more color choices (especially at the easel where space is at a premium), then use the double-dip paint cups
. And for liquid watercolors, we really like these smaller paint cups in a base
. You can also just use miscellaneous cups and bowls for holding your paints. We use small mason jars a lot.
Spray Bottles
– For spray painting with watered-down liquid watercolors on paper, fabric, snow. Or for spraying water on the chalkboard or outside. You can generally pick these up at the dollar store and other places for cheap.
Paint Trim Roller – These are like the paint rollers you use for painting your walls, but smaller and meant for trim and corners and such. We use ours in the studio for kids' art because rolling paint is lots of fun. I buy ours from the paint section of the hardware store.
Squeeze Bottles
– For puffy paint and other fun squeeze painting ideas. We usually just buy ours at the dollar store or something, but this is a an economical set that we also use and love. The bottles are smaller so it doesn't take as much paint to fill them up.
Brayer – We use one of these for most printmaking projects.
Acrylic Box Frame – These are really for framing your artwork, but we keep a couple in the studio for printmaking purposes. We roll the ink or paint over the surface of the frame to coat the roller or brayer evenly. We especially like the box frame for monoprinting with kids.
Palette – We have a cheap plastic paint palette that we use sometimes, like this one, and use it for acrylic paints, tempera paints, and paint mixing. But, mostly we just use cheap paper plates
because you can toss them afterwards and it's one little thing we can do to make clean up easier and quicker.
Hands / Toys / Nature Items – Because hands are great for transfering paint, printing, sculpting, etc. Car wheels and other toys can also be fun for painting. As can pine branches, flowers, and various nature items.
Tools to Store and Organize Art Supplies
Shelves, dresser, or cabinet – For storing your art supplies.
Storage Bins – We have little bins from Ikea (can't seem to find the product link at the moment), but any little boxes, storage bins, or buckets would work. We have one for tempera paint, one for liquid watercolors, one for printmaking supplies, etc. That way, I can grab one bin down from a shelf rather than try to juggle 10 paint bottles.
Table-Top Paper Roll Holder – This paper holder from Imagine Childhood is what we now use (after trying one from Ikea that was too flimsy for us).
Masking Tape Holder and Dispenser
– We have one of these tape holders for our colored masking tape. It looks great on the studio shelf and keeps all the tapes organized and in-view. However, we don't find it very easy to use for actually dispensing the tape. We often find ourselves taking a roll of tape off the dispenser, bringing it with us to the art table, and using it on its own—either tearing the tape with our hands or using scissors to cut pieces off.
Marker Holder – We used to have and love this DIY marker holder (from MaryAnn Kohl's First Art, page 126). Then I made a new version for my book and had to put it away until the book came out so it wouldn't appear in blog photos. Sadly, I've never re-found it. It's past time to make another!! For those of you who have my book, the instructions are on page 71-72. And if you just want to buy one, this marker stand
is pretty good.
Art Furniture
Art Table – Any table will work, including the kitchen table. For little kids, a table they can work at standing up, though, is especially good. We have and love these adjustable SANSAD tables as well as the stools (the stools don't seem to be available anymore). We've also used regular toddler and children's tables and chairs, mostly secondhand. And now have some wall-mounted, fold-down tables along the windows.
Easel – We still use and love our Melissa and Doug adjustable easel! If I've calculated correctly, it's given us a good 7 years of art-making service so far.
Tabletop Easel or Wall-Mounted Easel – If you just don't have the space for a regular easel, how about a tabletop easel
or a wall-mounted easel (this elephant easel is adorable and this wall-mount easel looks promising if maybe a tad small)?
Update :: We now have and LOVE this slanted surface drawing desk for both drawing and for homework. It is both well-made and economical.
Kids Art Tools for Working with Clay and Dough
Clay Sculpting Tools – We use this inexpensive pottery tool kit for clay sculpting.
Playdough Tools – Our Melissa and Doug wooden playdough tool set is still going great after many years. Unfortunately, they don't make it any more and the closest I could find just didn't compare. However, you could make your own with some textured rolling pins
, a regular rolling pin (we have a little one from a play kitchen as well as our big "real" one), some cookie cutters, a garlic press, a wooden knife (again from a play kitchen), and any other tools that catch your fancy.
Mat – We use plastic art mats or placemats, both with clay and with other arts and crafts activities.
Pottery Wheel – We have this pottery wheel by Craft Project Ideas and Maia and her friends really seem to like it. It doesn't have a whole lot of power, though, and if she keeps up her interest in clay, I may look into other options out there. Any ideas?
Whew! This turned out to be a longer list and post than I thought it would be when I started!
Okay, your turn… Any important kids art tools that I missed? What would you add to this list? And feel free to argue with me about my choice of "best"—I certainly haven't tried everything out there! And everyone's situation and preferences are different.
A Few Other Art Tools for Your Art Closet
Graphite pencil – A good graphite pencil set is good for older kids who love sketching. For the younger kids, there is a good variety of other pencils they can choose from, including some themed pencil options to make drawing time even more fun.
Sponges – Sponge painting is a good way for kids to explore paint, learn colors, and tune up their fine motor skills. Different sponge sizes and shapes allow children to explore a different way of painting.
Watercolor Paper – Watercolor paper is good to have because it is thick and made for wet media. The kids can explore different watercolor techniques and experiment with watercolor paint.
Sketchbook – In addition to watercolor paper, it never hurts to have a few sketchbooks laying around the house too. That way, the kids can grab a sketchbook and their favorite marker set and go to work creating new masterpieces for the refrigerator.
Collage Supplies – A great art project to work on with the kids is a collage, so you want to have all the best collage supplies at your fingertips. This means you should have colored tissue paper, feathers, pom poms, yarn, fabric scraps, googly eyes, and stickers. The kids can even gather up their paper scraps and turn them into Pablo Picasso collage masterpieces.
Everyday Objects – Finally, having a good assortment of some everyday objects can also come in handy as you create the best kids art tools set. Some everyday objects include construction paper, beads, clothespins, and pipe cleaners. You can also let the kids get creative with empty toilet paper rolls, plastic jugs, and cardboard boxes.
Why You Need the Best Art Tools for Kids
To inspire creativity, keep little hands and minds busy, and to get a moment of peace as a parent, it pays to have the best art tools for kids stocked up and close by. They are lifesavers for rainy days or days when the kids are bored in the house and wanting to flex those creative muscles.
I have given you an extensive list to work from above but choose the items you know your kids will love and see what they can come up with!
Okay, your turn… Any important kids art tools that I missed? What would you add to this list? And feel free to argue with me about my choice of "best"—I certainly haven't tried everything out there! And everyone's situation and preferences are different.
Pin it for Later