Here's how to make a glitter star Christmas craft with popsicle sticks. An easy and beautiful Christmas ornament for kids.
Updated September 2022
We made these little hanging glitter stars last week, inspired by the large lighted stars we've fallen in love with. The larger ones were made from yard sticks, these were made from little popsicle sticks.
Plus generous amounts of glitter, of course, to sparkle in the glow of the Christmas lights.
They were easy to make and use materials that you probably already have around the house: craft sticks, glue, paint, and glitter.
Here's how we did it…
Christmas Craft with Popsicle Sticks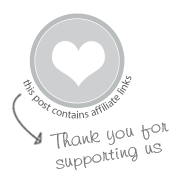 MATERIALS
INSTRUCTIONS
Make your star shape

Glue five popsicle sticks together into a star shape. We used a glue gun, which meant they dried quickly, but you can use wood glue or Elmer's white glue if you prefer.



Paint your stars

Once the glue has dried, paint one side of the stars with paint mixed with a bit of white glue.

Add glitter!

While the paint and glue mixture is still wet, sprinkle glitter all over the star.



Repeat

Let the paint dry, then turn the stars over and repeat the paint and glitter treatment on the other side.



Hang up your stars!

Use thread tied around one corner of a star to hang it on the tree, in a window, or from the ceiling!
These also make great Christmas tree ornaments, too. Or even gift tags and decorations!
More Christmas Crafts for Kids
Looking for even more holiday crafts for your family? Check out our Holiday Arts and Crafts bundle from the Kids Art Spot! 12 fun holiday activities, each with a step-by-step video tutorial and printable instructions, plus 12 fun and festive drawing invitations to encourage your kids to think and draw creatively.
Pin It for Later