Create this simple Christmas tree craft with toddlers and big kids too! These Christmas trees really shine and also make sweet Christmas craft cards.
Updated November 2022
We first made these sparkling Christmas trees when my son was a toddler. Each year, we have new renditions that we give as teacher gifts or cards for family and friends.
I especially love how each year our trees look totally different in true process art fashion.
The best part about this Christmas tree craft is it uses mostly recycled materials. One year, we even reused dried paint blobs which (unintentionally) made awesome little ornaments for the trees. We've also added glitter stars which really made these trees sparkle!
Christmas Tree Craft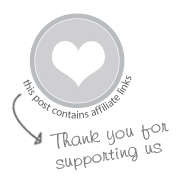 MATERIALS
Time needed: 2 hours
INSTRUCTIONS
Cut cardboard into tree shapes

You may wish to do this first step ahead of time, depending on your child's age.

Paint your trees

Next, use a brush to paint your cardboard trees. We also like using sponge dot brushes which make great painted ornaments.
Set aside and let dry for a couple hours.

Add loose parts

Then glue on whatever loose parts you have at your home. Recycled pouch lids, pom poms, beads and sequins to name just a few!
You can use recycled caps, and even leftovers from your last art project: these are dried paint blobs left too long in cups! We think they make the perfect ornaments!

Wrap garland


If you'd like, you might add pipe cleaners or ribbon as a Christmas tree garland.

Make glitter stars

Finally, add glitter to your tree or star for the top of the tree. Glitter glue, confetti, or loose glitter will make these trees really sparkle!
Pro tip: Be sure to glitter in a tray, over the trash can, or most preferably: outside!

If you'd like to add a star to your tree, cut that out of cereal box cardboard. It's thin enough, but sturdy to hold its shape. Add glue & glitter, set aside and let dry. When dry, glue your stars on the cardboard trees.
I hope your kids enjoy this sweet Christmas tradition! I like to keep a few trees from each year and enjoy seeing them again each holiday season.
More Easy Christmas Crafts for Kids
Looking for even more holiday crafts for your family? Check out our Holiday Arts and Crafts bundle from the Kids Art Spot! 12 fun holiday activities, each with a step-by-step video tutorial and printable instructions, plus 12 fun and festive drawing invitations to encourage your kids to think and draw creatively.
Pin It for Later