Scrape painting is a fun process art activity for kids. This fun technique moves paint with a card to create colorful rainbows.
Updated October 2022
We've experimented with scrape painting over the years, using handmade cardboard scrapers, old credit cards, combs and kitchen tools.
It's always a fun process!
Kids either tend to make abstract art with the scrape painting technique or something realistic.
This time we made rainbows.
Here's a video showing scrape painting in action! And don't forget to scroll down to get more detailed step-by-step instructions.
Scrape Painting for Kids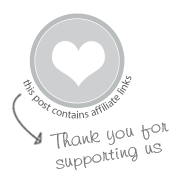 MATERIALS
Thin cardboard (to make your own scraper tools**)
*Note about paint: We have used tempera, acrylics and BioColors for this activity and all work well. Anything that's not too watery should work fine.
**Note about scraper art tools: You can also use old gift cards, store loyalty cards, combs, kitchen tools, spatulas, index cards, and commercially available scraper tools.
INSTRUCTIONS
Make the scrape painting tools

First, if you don't have scrape painting tools, you'll want to make some out of cardboard. Cereal box cardboard works fine, although we used something a tad thicker in these pictures.

Cut the cardboard into rectangular pieces small enough for your child to easily hold in one hand. Keep some with flat edges and add notches along others, so you'll be able to scrape through the paint in a variety of ways.



Add paint to paper

Transfer a dollop of paint to your paper. If you have squeeze bottles of paint, simple squeeze a bit directly onto the paper. We used spoons to transfer our paint to the paper.



Scrape!

Use one of your scrapers to move the paint across the surface of the paper. Continue to add paint and scrape as desired. You can experiment with different marks and color combinations.





Rainbow Scrape Painting
Add dots of paint in rainbow order along the bottom half of the paper. Then use your tool to gently pullS the paint into a rainbow arc.
Scraper art is super fun for kids and a wonderful way to experiment and embrace the process. We hope you give it a try!
More Painting Ideas for Kids
Pin It for Later