Maia and I finally made the nature prints with sculpey dough that Write, Mama. Write! posted about recently.
What a wonderful texture project for a little kid!! Maia loved every step of it (as did I). I'm sure even older kids would get a lot out of it.
Here's how we did it…
Nature Prints with Sculpey Clay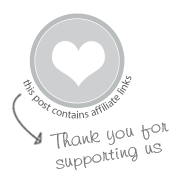 MATERIALS
Sculpey clay (You could also try this with regular clay or air dry clay)
Nature items
INSTRUCTIONS
First we went on a nature walk around our yard and found interesting leaves and flowers and rocks which we collected in one of Maia's bags.
She had great fun with this part and picked leaves from our rosemary (top right), dusty miller (middle right), yarrow (bottom right), butterfly bush, pine needles, ivy, and lemon thyme, as well as flowers from iris danfordiae, hydrangea (dried), and grape hyacinth.
Per the instructions on Write, Mama. Write! I rolled the sculpey clay into balls first (harder than I thought). Then we placed a leaf or other nature item on a flat surface, set the ball of sculpey on top, and together we pressed down on the ball.
Maia didn't seem to have the strength to press them on her own, but an older child would.
I was amazed at the level of detail that the sculpey captured! This is a print from butterfly bush leaves, above.
Next we placed the flattened discs on a cookie sheet and baked them at a low temperature (250 degrees I think) for 45 minutes. They hardened up nicely.
Once they were completely cool, Maia transfered them from baking sheet to bowls and played with them for quite a while, stacking them and moving them between bowls. They have a nice weight to them and are very satisfying to hold.
More Nature Print Ideas for Kids
Pin It for Later