Create gorgeous decorative tiles with air drying clay and a surprising method for adding color. This is a fool-proof project for novice potters. And best of all – no firing required! Post by Danielle Falk of Little Ginger Studio
This easy clay project is inspired by the work of Scottish artist Hilke MacIntyre, and her wonderful ceramic relief sculptures (tiles).
I've mentioned before how fun and therapeutic clay is for both children and adults and this project is no different. There really is something magical, almost primal about clay.
I can't overstate the fact that kids love clay (except for that one kiddo who hates the feel of drying clay on their hands!).
Clay relief tiles are very much an adult and child make together piece as children will need help rolling out the clay and with joining.
Choosing your clay
Our favorite clay to use with kids is an Australian brand of buff terracotta paper clay with paper fibers added to improve strength. It can be fired or used as an air-drying clay. That's right – you don't need a kiln!
There are numerous quality air drying clays available. You can find paper clay in the US as well.

How to Make Clay Relief Tiles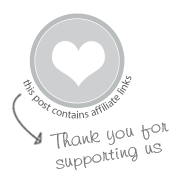 MATERIALS
clay cutter (a piece of wire or fishing line attached to pegs will do)
small bowl of water
wooden board, wooden table or piece of cloth to work on (I've used dense cardboard before and it works OK)
wooden skewer for scoring & cutting
paint brushes & water containers
patience!
INSTRUCTIONS

1. Roll out clay relief tiles
Your first step is to roll out a flat piece of clay otherwise know as the slab. Slabs are a basic form used to build things in clay, along with coils (clay snakes) and pinch pots (hand-pinched bowls).
Now that you know some technical ceramic terminology, you'll sound like an expert when you make this with kids!
The key to slabwork is ensuring the clay is adequately thick as it tends to shrink with drying up to 30% and can end up too thin and break. I usually aim for the thickness of a teacher's finger (2cm / 3/4 of an inch).
Pro tip: If you roll the slab too thin – it's always best to start again.

Start with a ball of clay a bit bigger than your fist. Cut a slice with your cutter) and flatten it into a hamburger / giant cookie shape (NOTE: this is not technical ceramic terminology!).
Roll it out slowly and evenly with a rolling pin until smooth and the correct thickness.

2. Cut clay relief tiles
Use your wooden skewer to carefully cut the slab into a square or rectangular tile.
You may wish to use a paper stencil to help get very straight edges – the neater your work, the better effect.

3. Create decorations
To decorate your tile, add shapes cut from smaller thin slabs (can be quite thin).

You can make these simply by flattening them in your palms and then cutting with a skewer.
We looked at Hilke Macintyre's work and created simplified depictions of plants and flowers.
4. Attach the decorations
This is a crucial skill in ceramics and quite difficult for some children to master. Kids often get swept up with creating and forget this step – and then their work falls apart when dry!
In order to join two pieces of clay the technique of score & slip (more terminology!) is used.
In our case, using air drying clay, score & water will do. Basically each surface to be joined needs to be scratched (scored) with a skewer, a dash of water applied to both and then the two surfaces pressed firmly together. In this way the clay fibres join when dry. (See steps below)
After your decorations are firmly attached, use the skewer, clay tools & popsicle sticks to add lots of texture.

5. Exercise some patience
Next, wait until your tile dries out completely – not kinda, not a little bit, but completely! This could take anywhere between 3 days and 2 weeks depending on the weather.
Pro tip: Don't be tempted to place it in an overly warm place like a sunny windowsill as it will warp! Aaaah clay, always a little bit temperamental.

6. Add color to clay relief tiles
Once completely dry, decorate your tile with acrylic paints (making sure you add sufficient white to your colors so that the colors don't dry too dark) OR use this surprising technique inspired by Sunnyside Art House.
First, gently color parts of your tile with fluorescent oil pastels, and then add fluorescent tempera paints over the top. Be careful not to press too hard or use too much water.
The effect is just stunning!
Pin It For Later