We have a new organizer for all of our collage materials and supplies! All the better to prepare for collage art projects, wouldn't you say?
The container is from the lovely Goodwill near us and is heaps better than the old (similarly sectioned) container we were keeping our collage materials in. This one is very sturdy, made by Tupperwear, and is a full 14 inches across and almost 3 inches deep in the center. It is well able to carefully corral each of our various collage materials until ready for use.
Want to know what we have in here?
Our list of Collage Materials and Supplies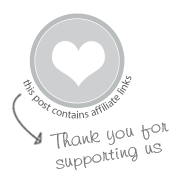 Pictured here, and ready for art ::
Feathers
, an assortment of dried beans, googly eyes
, various buttons
, cotton balls, colored tissue paper
, and, in the center, ribbons
.
We also regularly use colored masking tape
, washi tape
, fabric scraps, stickers
, colored pasta, and more.
What are your favorite collage materials and supplies? Where do you keep them?
Some collage art ideas to make use of all the lovely collage materials
Pin It for Later