Danielle Falk of Little Ginger Studio explores collaborative larger scale geometric art with tape and how to create colorful tape resist canvas paintings for kids.
We had so much fun creating tape resist art on canvas at our art camp. Our inspiration came from street artists who use tape to create incredible geometric art murals such as the street art collective TAPE THAT.
It's easy to achieve eye-catching results by using layers of contrasting colors. Then peel off the tape for the big reveal (which is so satisfying––and a little bit addicting)!
Geometric Art on the Floor
What do you think of this awesome tape mural we created on the studio floor?!
We used inexpensive electrical tape in different colors and blue painter's tape to create all sorts of pictures on the floor. I provided the kids with very little instruction and lots of freedom to create anything. We are so happy with the results and they LOVED it!
There is definitely something a bit naughty about putting tape on the floor, just be sure to test the stickiness of your tape first to ensure it will come off easily afterwards.
Tape Resist Canvas Art
MATERIALS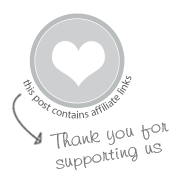 a stretched canvas or canvas board (you can always paint over a thrift-store painting with white paint)
a small foam roller or large flat paintbrush
acrylic paints in contrasting colors
white acrylic paint for mixing
1 inch painter's tape (masking tape is OK but it won't work as easily)
scissors
small sponge (an old kitchen sponge or sponge for car washing works too)
paint pens such as Posca (there are many cheaper versions on the market)
Time needed: 45 minutes
INSTRUCTIONS
PRO TIP: Mix your base color with a small amount of white paint to create a slightly lighter color.

Acrylic paints always dry darker and I never use them without adding white first. This is a mistake I see non-art trained teachers making often and it has a huge affect on the finished result of artworks. To achieve beautiful "candy" colors, always mix with white first, but not too much or you will get pastels. Likewise, I avoid using pure reds (I always mix to pinks), black or brown as these colors tend to dominate & detract from my preferred palette.
Prepare the canvas

First choose the base color for the canvas. Keep in mind that most of this color will be covered up by the end. Your base color will only be visible wherever you place your tape.

Add a good quality white acrylic to extend cheaper paints and add opacity (which is needed in this activity when working in layers). Then use a mini roller to paint a thin, even layer of base coat all over the canvas, including the edges, for a professional look. Let dry.



Create patterns with a layer of tape

Don't attempt to add tape until your base coat is completely dry.

We used 1 inch wide painter's tape and small canvases for this project. This meant that we cut our tape strips in half first before using or else our designs would be too thick. But if you created a very large canvas you could use the tape as is.

Cut half inch wide strips of painters tape into short strips 1.5-2 inches long and start creating your design. We focused on creating patterns and movement. Designs with lots of detail look great.

PRO TIP: Make sure all your tape is completely flat to avoid paint bleeds and ensure your design continues over the edges of your canvas.



Add a second layer of paint

Now it's time for a second layer of acrylic paint. The color choice is really important here. In order to achieve maximum contrast, choose a second color that is complementary (opposite) to your base coat.

For example: use yellow on purple, blue on orange etc. We got a bit fancy at this point and experimented with creating blends of two or even three colors on top of our base. We used warm colors on cool or or cool colors on warm.

Blend two colors carefully by dabbing paint with a sponge and be careful to cover every last bit of the bottom layer and all of your tape.

Alternatively you might choose to keep it simple and add just one color over the top of your first using a roller or large paintbrush.

Conversely, once this second layer of paint is dry, you could add more tape and continue with a third or even fourth layer of paint, all the while switching between contrasting colors.



Peel off the tape

This is the FUN part of the process! Once your top layer of paint is completely dry––and I mean completely––no cheating here, carefully peel off every single piece of tape for the u0022big revealu0022 of your artwork.

I guarantee kids will love doing this and there will be lots of oohs and aaahs in the room! If your artwork seems a bit unfinished, add another color and more detail with carefully placed paint marker.

PRO TIP: Avoid using a pen with a similar color to the base coat, or you might loose the impact of the tape design.
Tape resist canvases look amazing large scale and are a great technique for collaborative artworks. I'm getting the urge to create a HUGE canvas with my classes this term!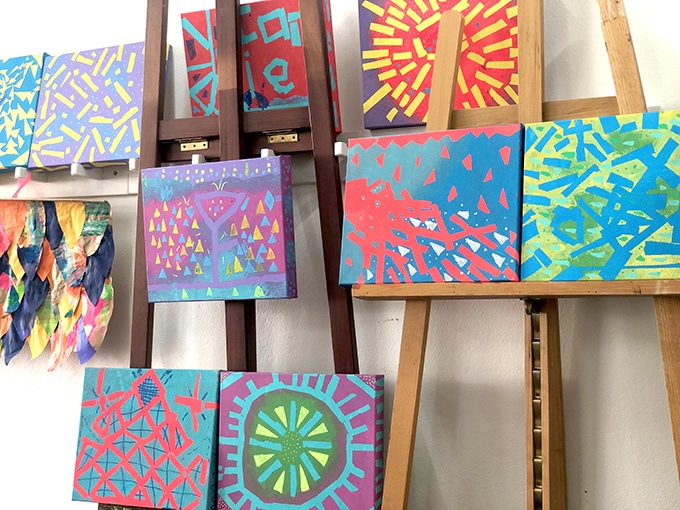 More Tape Resist Art for Kids
Pin It For Later