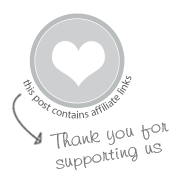 I bought a new kids drawing table a couple months ago (that one from Imagine Childhood that I said was on my wish list when I wrote about the best art tools for kids) and wanted to share our experience with it.
The table itself is simple, sturdy, and highly functional and I thought the price was very reasonable for a drawing table of this quality. The paper roll that attaches to it is purchased separately and is not quite so inexpensive, but it's good paper and worth it to be able to use this table. Although you can also use the table without the paper roll…
Here's why I like using this slanted kids drawing table
The angled surface is ergonomic, helping kids write and draw in a more optimal position—the child's head is kept more upright and the hand and forearm are supported as he draws and writes.
The table can be used for both art (as you can see in this post) and for writing and homework.
The attached roll of paper means there's always a ready supply of paper.
The table is portable and can be easily taken around the home or outside. My kids have used it at the desk (pictured here), on the dining table, in the studio, and on the floor.
The table works well as a lap desk as well—something that I didn't consider when I bought it. Maia was ill recently, though, and was able to draw and write with it on the sofa with the hard surface resting on her bent legs.
I wanted to share a few photos of the kids drawing table in use
Above and below are pictures of Maia's first drawing on the table: a spring tree with birds' nests, an owl family, and flowers.
She used a rainbow colored pencil for some of it; I love the flying rainbow bird!
Here's one of Daphne's many detailed marker drawings made on the drawing table.
Her drawing style has changed so much in the last few months! She's telling me about the flowers, butterflies, crown, suns, and castle in this photo.
And this is a photo of her friend Gigi drawing at the table as well as her finished marker drawing. Love those people!
A few additional notes
If you want one of these slanted drawing tables, you can buy it at Imagine Childhood as well as the paper roll that goes with it. While Imagine Childhood has been one of my blog sponsors, I am writing about the table because we use and love it, not through any obligation to them. You can also buy this Beka drawing table together with the paper roll from Amazon.
The markers pictured in these photos are Stabilo Power Markers which I bought in December. They are great! We haven't exactly tested the "leave the top off for weeks and it still works" feature, but we are very happy with the markers so far. Update: The Stabilo Power Markers dried up remarkably fast considering the promise they came with.
We use washi tape at the four corners of the paper to help hold it in place flush with the board. The washi tape lifts easily without leaving a residue and yet holds the paper down well enough that it doesn't shift (which it seems to a little bit when we don't use the tape). Masking tape would probably work just fine as well, but we like the colorful printed washi tape.
When drafting this post I just came across this tutorial for a DIY slant board on A Little Learning for Two, if you want to recreate the ergonomic writing/drawing surface on the cheap. Make sure to check out the post regardless because she also shares a lot of reasons a slanted surface is better for kids in general and for those with focus and motor control issues specifically.
Update: We've used this drawing table for several months now and it still gets almost regular use by my children as well as their friends!