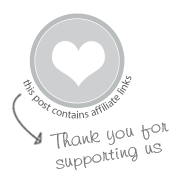 This is a list of our all-time favorite kids art materials. I started with the top 10 that we just can't live without, then had to keep going. So we have an addendum with the 15 runner-up art materials after the big top ten list.
Here goes… And please add a comment with any of your faves that I missed!
Our Top 10 Favorite Kids Art Materials
1. BioColor Paint
 (We love this paint and use it almost exclusively these days. It's pretty much edged our fave tempera paint
out of the picture for us. The tempera is still on our studio shelf, and I still think it's the best tempera paint, but we always end up reaching for the shiny, vibrant BioColors.)
2. Liquid Watercolor Paint
 (If you haven't tried liquid watercolors yet, you need to!)
3. Oil Pastels
 (We don't have a clear favorite brand for these and like Colorations
, Crayola
, Faber-Castell, Twistables Slick Stix, etc.)
4. Playdough (Homemade is by far our favorite. The cooked playdough recipe is the best; the no-cook recipe is easier and quicker.)
5. Transparent Con-Tact Paper
 (Go with the name brand for sure; you can get it in any drug store or grocery store with the shelf-liner paper. Also called sticky-back plastic. We use it for all kinds of suncatcher and stained glass projects as well as some collaging fun.)
6. Markers  Alpino Super Color Markers, our all-time favorite markers ever are finally available again! They are spendy but worth it. Our runner up choices at this moment are the ever-present Crayolas
(skinny, thick, washeable, not-washable—they're all good).
7. Glitter
 (All the brands we've tried have been fine)
8. Glue
9. Colored Masking Tape
 (We're tape happy!)
10. Paper, of course!  White Paper
and  Colored Paper
. Sketchbooks and fancy art journals. Watercolor paper
and easel rolls
. But all you really need is some plain white paper. Or colored. Or recycle bin paper. Or cardboard. Or ?
15 More Kids Art Materials We Really, Really Like
11. Stickers (My kids have a sticker fetish. Maybe yours do, too? We use all kinds, including foil stars, reinforcement holes and other office supply stickers, basic shape stickers
, DIY stickers, etc., but also a goodly supply of more commercial, image-based stickers.)
12. Googly Eyes
 (You gotta have googly eyes!)
13. Sharpie Markers
 and Metallic Sharpies (We use ours all the time!)
14. Pipe Cleaners
 (So good for manipulating, for building sculptures, for threading beads and pasta, etc)
15. Tempera Paint Sticks (More like extra-large oil pastels than paint, really, but great for mess-free art for kids! The colors are vibrant and the "paint" goes on smoothly.)
16. Crayons (We use and have used all kinds of crayons, including Crayolas, Prang soy crayons, Stockmar beeswax crayons, glitter crayons, metallic crayons, rainbow crayons
, DIY crayons, triangular crayons, skinny crayons, chunky crayons, and super fun crayon shapes. The cheap Crayolas
are just fine for drawing so if you're on a tight budget, get those and spend any extra $ on some paints. But if you're okay with spending a bit more, I recommend these Jolly Push Up Crayons and Crayon Rocks. Watercolor Crayons are pretty awesome, too.
17. Clay
 (Messy, but good. My kids LOVE sculpting with clay. We just let it air dry, but if you have access to a kiln, all the better.)
And the List Continues with More Fun Art Supplies…
18. Printed Craft Tape
 (As I mentioned earlier, we're tape happy here. We love washi tape and the washi tape knock-offs. Everyone seems to be getting into the game these days, including even Scotch tape. You can pick up printed craft tape almost everywhere, including Target, the drugstore, etc, but CuteTape.com has a great supply of the real deal. I buy ours here and there, but like the economical sets by Discount School Supply. Just ordered this set
!
19. Colored Tissue Paper
 (Great for suncatchers, collage, and papier mache.)
20. Model Magic
 (Not exactly a must-have, but so fun and squishy!)
21. Rainbow Feathers
 (To add a little fun color and tactile experience to suncatchers, collages, playdough sculptures, and more!)
22. Foam Paint
 is a lot like shaving cream, the all-time sensory art and play fave. But it is formulated especially for art, doesn't smell, and is supposed to be environmentally friendly. It's more expensive but worth trying 2-3 colors sometime.
23. Colored Pencils are the underappreciated workhorse in our house. They never seem to be as coveted by my kids as, say, foam paint or googly eyes, but get used for drawing regularly just the same.
24. Wood Craft Sticks
 (For building, sculpture, crafts, catapults, everything!)
25. Glue Gun
 (Makes gluing so quick, easy, and fun. If you're worried about kids + glue gun, see Teacher Tom's tips here. Or, if you have my book, see the advice he gives on page 181.)
So that's my list! If I don't stop now, I'll end up with another addendum of 10-15 art materials…
Did I miss one of your favorite kids art materials? What would you add to this list?
More Kids Art Materials to Check Out
Pin It for Later