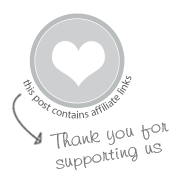 Sometimes we get our holiday cards out, sometimes not.
The few times we've had photo cards printed, I've been so happy and proud of myself and our family. For months!
I'm not kidding.
And I'm not sure why that would be the case, but it is. Partly the simple act of staging and taking a family photo, I imagine. Something that doesn't otherwise happen except on vacation when the kids have ice cream dribbles on their chins and I have crazy windblown beach hair.
The holiday photos are different, though. They are ::
A chance to dress up. We even splurge and buy the girls each a special holiday dress for the photo (and the many school/holiday events and parties of the season).
A chance to pose for a more formal portrait—even if we take it ourselves with a tripod and timer.
A chance to have a nice family photo to frame for our home (I need to remember to order a nice large print this time in addition to the holiday cards!)
And a chance to share a current family photo with friends and family around the country and the world. An opportunity to reach out and say hello on paper (which feels strangely personal in this age of social media) and to send out missives of real snail mail in all directions.
It's a chance to reconnect in a meaningful way—at least to me.
So my goal is to get our family photo taken ASAP and get our holiday cards out this year.
I've ordered the girls' dresses from Tea Collection—one of our favorites for cute and comfy kids' clothes.
And I'll re-read this handy guide on 5 Simple Posing Tricks for Capturing Kids from Peanut Blossom so I'm all ready to take the family photo when the dresses arrive.
9 Reasons To Send Holiday Cards
We like to send and receive mail.
To write out the names and addresses of those we love and those we want to keep in touch with.
If we send cards, we're more likely to receive them (and we LOVE to receive cards!)
We have a cool holiday card wreath that we made last year
The kids aren't on Facebook and frankly I'm not too active on FB either.
It's a chance to talk to the kids about our friends and family around the country and the world.
Holiday cards are physical—you can hold them in your hand and display them.
It motivates us to take a family photograph that we probably wouldn't otherwise.
It's an excuse to ask people for their addresses—or to ask what their new address is if they've moved—to find out where they are and what they are up to.
5 Ways to Do Holiday Cards
(We've done each of these at various times.)
1. Premade Cards :: You can buy a box of holiday cards and send them out. Easy peasy. (I like the holiday cards sold by UNICEF, plus the proceeds go to help kids around the world). Slip in a family photo if you have one.
2. Handmade Cards :: Make your own holiday cards! We did this last year and made these lovely sticker resist starry night cards as well as some DIY glitter tape cards.
3. Family Photo Card :: This one is my favorite! I love to take a good family photo and turn it into a holiday card that we can send out to friends and family. We use and love Tiny Prints (and their sister site Shutterfly) for photo cards.
Note :: Both Tiny Prints and Shutterfly have frequent sales and promotions. Check out their sites for current deals.
4. Kids Art Cards :: Have a holiday art-making session then turn one or two of the best artworks into professional-looking cards. I take a photo of the artwork then upload the photo to Zazzle and choose the customize your own greeting card option.
This year we're doing something a little different, though.
We took the recent Christmas flower paintings the kids did and ordered postcards to be made from them. I was going to do regular note cards but then really, really wanted to do photo cards this year.
So we'll slip in a kid-made postcard alongside the photo card. Or bundle together a few postcards as gifts…
5. The Procrastinator Card :: This is the one where you have good intentions, but the cards don't get sent out until after Christmas so you call them New Year's cards or Valentine's Day cards or whatever… Yes, we've done this!
PS: Looking for additional inspiration? I am proud to be sharing holiday card ideas with the blogs Lets Lasso The Moon, Peanut Blossom, and Simple As That this month.
Pin It For Later