This stocking stuffer guide includes the best mix of art supplies, small games, toys & useful items for kids.
Updated October 2021
Every year it's the same. Mid-December rolls around and we realize that the month has gotten away from us.
Between work, school events, and holiday parties, we've been too busy to do our holiday shopping and still have lots to do in the stocking stuffer and gift department. We always vow that next year (next year!), we'll get it all together early so this doesn't happen again.
But for now, to help you get your shopping done, here's what we consider the perfect stocking stuffer mix: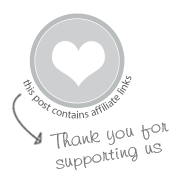 Creative
Interesting
Useful
Fun
Small enough to fit in a stocking
If you're in this last-minute boat with us, here's the stocking stuffer guide for you.
A big thank you to Magic Stix markers for sponsoring this post! As always, all opinions expressed are my own.
The Perfect Stocking Stuffer Mix
Note: This stocking stuffer guide is best for 4-10 year olds.
Art Supplies
1-3 drawing or art supplies, such as this pack of Magic Stix markers* or a pack of Kwik Stix paint sticks** and a small sketchbook
*Magic Stix are markers that won't dry out even when the cap is left off for 7 days! Read about the magic of Magic Stix here, including how we tested them.
**Kwik Stix are no-mess, quick-dry tempera paint sticks. We love these so much and always include them on our lists of favorite art materials.
Activity Book
1 activity book, doodle book, sticker book, Mad Libs, or activity pack, rolled up and tied with a ribbon
Christmas Candy
2-3 assorted Christmas candy and snack items such as a large candy cane, foil-wrapped Christmas chocolates, Pez, a hot cocoa packet, snack-sized goldfish, gum, or your child's favorite treat.
Games
1 small game such as Sushi Go, Spot It, Bananagrams (and here's the little kid version of Bananagrams)
Toys
2-5 small fun toys such as grow animals, slinky, spin top, bouncy ball, light fingers, hex bugs, matchbox cars, play foam, silly putty, water beads, or a small stuffed animal.
Useful Items
2-5 small useful objects such as a fun toothbrush, fuzzy socks, a bath bomb, training chopsticks, erasers, pencils, a wet brush, hair accessories, silly straws, and child-sized kitchen tools.
So there you have it. Our definitive, last-minute stocking stuffer shopping guide. Hope this helps you fill your stockings this season!
More Stocking Stuffer Ideas for Kids
Pin It for Later
Again, thank you to Magic Stix for sponsoring this post; all opinions expressed are my own.