Learn how to make DIY wrapping paper for kids with a rolling pin and foam stickers! A fun holiday craft project.
Updated October 2021
Have you tried making handmade wrapping paper with your kids?
We've done it quite a bit, with different techniques each time, and it's always satisfying!
And it is extra special when you get to be creative with the gift wrap, regardless of what the gift inside the package is.
This project was inspired by a rolling pin stamp idea from Color Made Happy. And this post is part of a round-robin series by the Rockin' Art Moms. At the end of the post you'll find 7 more handmade wrapping paper ideas from other members!
DIY Wrapping Paper for Kids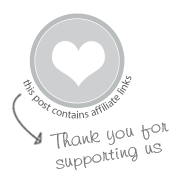 MATERIALS
INSTRUCTIONS
Create a design on the roller

You can do this two different ways:
A. Wrap wax paper around the rolling pin and secure with tape. Adhere foam stickers to the wax paper in desired pattern.
B. Press foam stickers on a cardboard tube in any pattern desired.



Lay down paper

Tape down a piece of butcher paper or other large sheet of paper to your table or floor.

Prepare your printing ink

Next, squeeze a dollop of printing ink onto the acrylic box frame. Then use the paint roller to roll the ink around, creating an even and smooth layer of ink.
Note: You can also use paint such as acrylic paint or BioColors, if that's what you have. We've done it both ways. The ink works better as it's stickier but the paint works okay, too.



Coat the rolling pin with ink

Roll the sticker-covered rolling pin over the inked surface a few times to coat the stickers with ink.



Roll and print your design

Finally, roll the inked rolling pin over the butcher paper to print your designs and patterns.  Re-ink as necessary and continue printing with the roller until you're happy with the way your wrapping paper looks.

Let paper dry.
Tip: Wash your box frame and trim roller ASAP to get the ink off.



Wrap your gifts!

Now use your amazing new gift wrap to wrap your gifts!



Optional: Doodle!

This step is optional (but fun). Doodle on the printed wrapping paper with pens or markers.



We used Sharpie markers but any are fine.

Use the printed designs as drawing prompts, as the beginnings of something else, or just doodle and draw to your heart's content.


Want some more awesome handmade wrapping paper ideas? Check out these by the other Rockin' Art Moms.
DIY Gift Wrapping Rockin' Art Mom Style
Looking for even more holiday crafts for your family? Check out our Holiday Arts and Crafts bundle from the Kids Art Spot! 12 fun holiday activities, each with a step-by-step video tutorial and printable instructions, plus 12 fun and festive drawing invitations to encourage your kids to think and draw creatively.
Pin It for Later