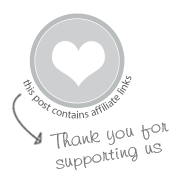 A couple months ago, we received a review copy of 150+ Screen-Free Activities for Kids by Asia Citro of Fun at Home with Kids. I set it on the shelf with a few other review books I had received, fully intending to take a look at it when I had the time.
But I started noticing it around the house…
And then I started noticing Maia making things—whole worlds—from it.
And then she started asking for particular materials so she could do other activities from the book.
And so it went.
Maia has carried this book around with her, even in the car, taking ownership of it and the activities and executing them on her own (often enlisting the help of Daphne and sometimes other kids in the house).
This has never happened before, despite the volume of children's activity books that have come through our home.
Most get ignored by the kids. (Although if I introduce an activity from one of the books, they're perfectly happy to do it.)
But to have the whole book and its activities appeal so clearly to my child in such a way is a first.
Why her and not Daphne, my five year old?
First of all, Maia is an independent reader and creator. At nine, she can read about the activities, follow the instructions, and execute most projects on her own. Daphne can't yet.
Secondly, Maia is my big-time sensory-seeking kid. She is the child who as a toddler and preschooler took her shoes off every time we walked past a particular neighbor's house so she could cavort barefoot on the gravel drive. She's the one who still covered herself in shaving cream during certain art activities, long after many kids might have stopped doing so.
This book is very appealing—I can see how Maia is attracted to it. The photos are clear, colorful and engaging. There are lots of slimes and goos and doughs. It's really a child's dream come true.
Maia really wants to make the slimes and we haven't yet (because of a bum of a mom who has a bit of a thing against slimes and hasn't gotten the materials). The glow in the dark stuff looks especially fun, though.
Here are the kids dioramas and small world play scenes Maia has created so far ::
She's made the colored cloud dough… With Daphne quick to bring her princesses over to play in it.
And then they turned it into a small world play scene together with some duplo pieces and the tower from Daphne's wooden castle.
She made the beach world (although I don't seem to have taken a photo of it).
And the desert world play scene.
And the frozen world play scene (with our favorite fake snow instead of the recommended cornstarch and arctic figurines rather than penguins).
I like seeing her apply the ideas and skills that she's gained from 150+ Screen-Free Activities for Kids in other situations.
For example, she had a couple of friends over to work on a school social studies project this past week. While most of the kids in her class chose to do a computer presentation, she has spearheaded a diorama project to recreate an Algonquin Native American life in miniature. They dyed sand green and blue with liquid watercolors (their idea) to represent grass and a lake, gathered twigs from the yard and glued them together to create huts (after they decided that the wooden craft sticks they taped together weren't going to cut it), and talked about using some of our animal figurines to populate the world.
This book is definitely a keeper.
I highly recommend picking up a copy for yourself and your family, whether you have babes, little kids, or school-age kids.
It might disappear from your bookshelf, too, and you might start to notice it around the house…
Pin It for Later ::
150+ Screen-Free Activities for Kids was sent to me for free to review; all opinions expressed are my own.