By their nature (and that of many holiday crafts) Valentine cards are usually more about the finished product than the process. Which is fine, of course. We do plenty of holiday crafts in our house. And there are so many fun Valentine's ideas out there.
But being a process over product devotee when it comes to children's art, I'm always trying to think of ways to make our holiday projects more about the process than the product. Or at least as much about the process as the product. Because there's no denying that we all think the finished card is important when we're giving it to friends and family.
So when it came to Valentine cards this year I tried to think of a way to make them fun and interesting for Maia to make, as well as age appropriate (for a 4 year old) and open ended. She's made a few different kinds so far since she's not an assembly line kind of gal; her interest and attention span last long enough to make between 1 and 4 of each.
Maia's favorites so far involved using her hole punch, which is such an awesome kid tool! Here's how we did it…
How to Make Kids Homemade Valentines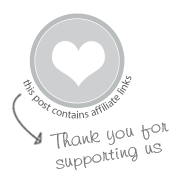 MATERIALS
INSTRUCTIONS
1. Cut paper into heart shapes
First, I cut out a stack of hearts from thick watercolor paper (card stock would work as well).

2. Paint
If desired, try liquid watercolors on the valentines. Maia painted some with watercolors first and but left some without paint.
3. Hole punch
Maia really enjoyed this step! She punched holes around the edges of the hearts.

4. Thread ribbon
Then lace the holes with ribbon and red embroidery floss.

Her finished valentines are not so polished perhaps, but they are ones that she had a lot of fun making and that she is proud to be able to give to her friends and grandmas.

7 More Kids Homemade Valentines & Craft Ideas
Do your kids like to make homemade valentines? What do you do to make it as much about the process as the product?
Pin It Below