Use this symmetry painting technique to create unique heart art for Valentine's Day. An easy and fun art activity!
Updated January 2021
Hello, my friends. Surely you've tried some version of symmetrical painting with your kids, right?
You may also know it as blotto painting, smush painting (with or without string), or squish painting. No matter what you call it, though, it's a super fun art activity.
Symmetry painting is when you add a few drops of paint to one side of a piece of paper, fold the second side over the paint, and press the paint sandwich together with your hands. Then, when you open up the folded paper?
Voila! You have a unique and symmetrical design of squished paint.
This is a huge hit with toddlers and preschoolers but I have to tell you that old kids (and, ahem, so-called adults) love it, too.
There are lots of fun variations, including mirror-image string prints, using the symmetry paintings as drawing prompts (we've used them in the past for fun faces and animals), using them for butterflies or monsters, but we recently made heart symmetry paintings since Valentine's Day is around the corner. They're so pretty!
Be sure to check out our Youtube video all about symmetry painting!
Heart Smush Painting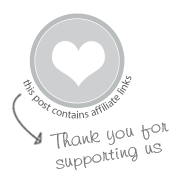 MATERIALS
Sturdy paper
Tempera paint in 2 or more colors
Paint brush or spoon for each paint color
INSTRUCTIONS
Cut out paper hearts

First, cut your paper into hearts of any size. Fold a sheet of paper in half and cut half a heart along the fold. Open to reveal your full heart paper.

Add paint

Use a paintbrush or spoon to add drops of paint to one side of the heart paper.



Fold and squish

Carefully fold the second half of the heart paper over the paint and press. Squish the paint sandwich all over with your hands.



Reveal your symmetry painting!

Open up the heart to reveal your interesting and unique symmetrical heart art!



Here, Maia used the paint colors she mixed up to make an ombre heart.



Dry your hearts

Hang your hearts or lay them out to dry fully. Here are our heart paintings on the drying/display wall in the studio. Don't they look great?!


We made ours big—one to two hearts per 12×18″ sheet of paper—but you could make yours as small as you like. A bunch of little ones would work well for class Valentines, for example. And I'm pretty sure your child would happily make 20 or so of these.
More Symmetry Painting Activities
Pin It for Later