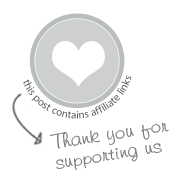 We had the pleasure of exploring another Kiwi Crate this past week—a gift-making kit in a box. I raved about the one we tried last Christmas, so I knew this one would be a quality experience before the crate even arrived.
Kiwi Crate, one of my blog sponsors, has a new line of holiday-themed crates this year, including "Crafty Christmas," "Handmade Hanukkah" (which features some our favorite art activities!), and "Gifts Made by Me" (which they sent me for review).
I'm not one of those people who believe that presentation is everything, but at the same time, I enjoy something that is well put together as much as the next person. And the Kiwi Crate folks to a great job with presentation. Their crates are appealing, thoughtfully organized, and clear. The combination of quality materials, attractive graphics, and concise instructions really makes Kiwi Crate stand out.
Plus the fun activities and projects, of course!
Our "Gifts Made by Me" crate included a monoprinting activity, materials to turn the prints into notecards and journals, and, to top it off, some white ribbon to decorate with snowflake prints before wrapping it all up gifting to someone.
Here, Maia is creating monoprints of a Christmas tree, a snowman, and another mustachioed Frenchman.
Daphne enjoyed the entire process of squeezing out the ink, rubbing it into an evenly thin layer on the plastic sheet with the brayer that was provided, drawing in the ink with a Q-tip, pressing a piece of paper over her design, and lifting to see the print she made.
Monoprinting is one of our favorite art activities and one that we've done quite a few times and with quite a few variations. The Kiwi Crate version was well presented, the materials were good (I was pleasantly surprised by the inclusion of the brayer!), and the instructions clear.
The only thing I didn't like was the sheet of transparent film which we were instructed to tape to the brown paper. When we rubbed the brayer over it, the paper and film moved and buckled and the tape didn't stay put. Perhaps if we had taped the brown paper to the table as well, it would have worked fine. Another solution, which we used the second time around, is our favorite monoprinting surface—a cheap acrylic box frame. OR, the smooth, flat bottom of any baking dish.
Activity #2 from the crate involved using the prints to make journals (two plain journals/sketchbooks are provided)…
…and notecards (four blank notecards are provided).
Still following the instructions, Maia wrote holiday greetings in her cards before slipping them into the envelopes provided.
And then, we printed snowflake designs on the white ribbon…
…and wrapped the journals and cards together.
All in all, it was a very engaging crate. And terribly satisfying for the kids to have nice cards and gifts to present to the special people in their lives.
If you're interested in ordering your own holiday crate, a regular subscription, or even one of their stocking stuffers, head on over to Kiwi Crate and take a look at what they have to offer.
As they say (and my kiddos and I would concur), their crates are, "Hands on fun, delivered."
Pin it for Later