Learn how to do this easy styrofoam printmaking project with kids.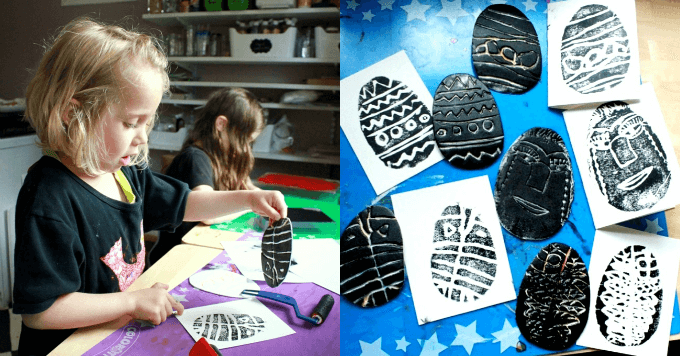 Have you tried styrofoam printmaking with your kids?
It's a remarkably easy and rewarding printmaking technique! You can do this project with styrofoam trays from the grocery store (free) or with styrofoam sheets from the craft store (inexpensive).
To make your printing plates, you simply draw a design into the soft styrofoam. Then you ink it up, and press the ink-covered styrofoam to paper. Easy peasy.
Plus styrofoam printing lends itself to making art and cards for any of the holidays. We've done this for Valentine's Day, Christmas, and Easter. But, of course, you can use this technique any time of the year and create any kind of art with it.
Here's a video showing Styrofoam Printmaking in action! And don't forget to keep scrolling for step-by-step instructions, and a fun way to use this technique for Easter.
Note: This tutorial was initially published a couple of years ago as part of this post on Easter Art Activities for Kids.
Styrofoam Printmaking with Kids
We've printed with styrofoam several times now, but this time we cut the styrofoam into specific shapes first. Love the result! (It also works great with hearts.)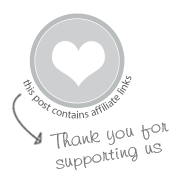 MATERIALS
Styrofoam sheets (we used styrofoam containers that were headed for the trash, but but you can also buy styrofoam sheets specifically for printmaking)
Trim roller or other mini paint roller (you can get this from the hardware store in the house painting section)
Hard rubber brayer (optional)
White paper (we used watercolor paper this time but often use a smoother paper such as sulphite paper)
Scrap paper
Colored pencils, markers, crayons, etc (optional)
INSTRUCTIONS
1. Cut the styrofoam sheets into egg shapes.
Ours are about four inches tall.
2. Draw design on styrofoam
Use the pencil to draw Easter egg designs (or anything) in the styrofoam, pressing down rather hard.
3. Gather printmaking materials
Assemble your printmaking materials, including the paint roller, printing ink, a plate for spreading the ink (we use the bottom of an acrylic box frame, as in this post on monoprinting with kids), and papers.
4. Ink the printing plate (egg)
Squeeze some ink onto the plate and spread it around with the paint roller. Once the paint roller is coated with an even layer of ink, roll it over your styrofoam Easter egg (with a sheet of scrap paper underneath to catch the extra ink).
5. Print your egg!
Position the styrofoam egg face down on your paper or a blank card and use the hard rubber brayer (or a spoon) to rub over the styrofoam to help transfer the design.
Lift the styrofoam egg to reveal the print!
6. Create more prints!
Repeat to create more prints as desired. Let dry.
Maia made the two on the bottom right (a face and a fern), Daphne decorated the Easter eggs in the upper right and lower left, and I did the remaining one.
7. Color print
If desired, you can color in the Easter egg designs with markers or colored pencils as Daphne did here. The girls sent some as black and white and colored some that they delivered to a friend in the hospital. Both were lovely.
A FREE Activity Sheet Printable for You
To help you do this activity with your kids, I created a FREE printable with the step-by-step instructions for this fun technique.
Click Here to Get Your Printable!
You can download now with the link above.
If you haven't tried styrofoam printmaking with your kids yet, I highly recommend it!
(And if you have, perhaps it's time to revisit it…)
MORE EASTER ARTS & CRAFTS IDEAS AND ACTIVITIES
31 Easter Crafts for Kids (+ Art Projects, Easter Activities & More!)
Pin It For Later