Here are 10 of our favorite ocean crafts for kids to make time at the beach more creative and fun! Save this list for your next beach day!
Updated May 2023
If you have a beach trip coming up, maybe you could make this one a little more creative than usual with some of these fun ocean-themed crafts.
If you've done your beach trip for the year, save this post for next time. Some of these ideas can even be done at home – no beach necessary!
10 Ocean Crafts for Kids
1. Shell Collecting, Sorting, & Arranging
Chances are you and your kids already collect seashells when at the beach. This is one of those simple activities that we all seem to be drawn to.
While some might hold out for the perfect (whole) shells or the rarer specimens, most kids are just as excited about the common shells and shell fragments they come across. Wash the shells off, sort them by type, arrange them by color or shape, trade them, whatever you'd like!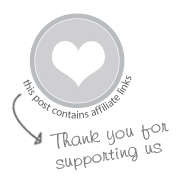 2. Painted Shells
If you bring any shells home, you can paint them! We've done this with both tempera cakes and BioColor Paint and they are both great for adding color to your shells.
Not near a beach? You can purchase inexpensive shells and have your very own beach art day wherever you are!
We've made plenty of melted crayon rocks but seashells are even more fun! They look like special treasures when you add the crayon on the inside.
You can also try this with oil pastels on unheated shells. It's a good option if you don't want to work with hot shells.
3. Building Sandcastles
Of course! The beach is one giant sandbox and water play table combined, enticing us to shape and mold it into structures that will last just until the tide comes in.
4. Two Dimensional Sandcastles (Drawing with Rocks and Shells)
You can also make large 2-dimensional sandcastles by arranging rocks into walls, doors, windows, and flags. Then add seashell decoration.
Try making a mandala on the beach, with concentric circles of different rocks or seashells you find.
We really enjoy the mandala format and have done a lot with it over the years including flower petal suncatchers, a mandala drawing game, and autumn leaf mandalas.
6. Drawing and Writing in the Sand
What is more natural than making marks in the sand? Every kid we know loves to do this at the beach. It can be drawing pictures with their fingers or writing messages and love notes in the sand with feathers and reeds found on the beach.
7. Ocean-Inspired Drawing
Let your kids be inspired by the ocean! You can bring a small pad of paper and some drawing materials for when they're taking a swim break. Maybe they'll draw what they see on the sand, or maybe they'll imagine an underwater scene!
8. Watercolor Resist Paintings of Ocean Scenes
Or if you are staying near the ocean, take it a step further and let them create some watercolor resist art! You can bring a travel pack of oil pastels and some watercolor paints and paper so that kids can draw and paint what they see at the beach. Simply set the materials out on the table during any breaks from the beach and kids will be sure to be inspired to create.
First, they can draw pictures with oil pastel and then paint over their drawings with the watercolors for a lovely resist effect.
We love sand casting and have done it on the beach and in the sandbox. It's a fun process and the finished sand cast makes a great beach memento.
To make things a bit easier, we pre-measure 4 cups of dry plaster into 6 or 7 gallon-sized ziploc bags. The plaster is mixed 2 parts dry plaster to 1 part water. So, while on the beach, each person simply takes a bag of the pre-measured plaster, adds about 2 cups of sea water, closes up the bag, and kneads it with their hands to mix.
Then, pour the plaster into your decorated hole and let it set!
10. Sensory Play at the Beach
We know this one technically isn't an ocean craft, but we don't know any kids that don't like sensory play! Bring some of your favorite sensory tools, like scoops, cups, and funnels, and let your kids have at it. It might give you a chance to sit back and relax!
What are your favorite ocean crafts for kids? Any other ideas to add creativity to a family beach vacations?
More Summer Fun for Kids
Pin It for Later