Cooking with kids is wonderfully fun and rewarding whether you bake dessert, whip up a fun snack, or collaborate on dinner. Most young children LOVE to measure and mix, pour and decorate.
Yes, it can be messy sometimes and the finished item may not always look quite as it would if you had cooked it yourself, but you are building memories alongside skills.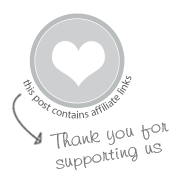 And that is always worth it.
Here are more than 50 recipes, tips, and ideas for cooking with kids.
Most of the following posts include recipes, some include links to the recipes we used, and a few are more about cooking with kids than the actual recipe. (And some are just recipes without the cooking-with-kids element.)
Enjoy!
Kids Aprons, Cookbooks & Cooking Kits!
Easy Snacks for Kids
Baking Bread with Kids
Cooking Breakfast with Kids
Baking Desserts with Kids
Decorating Desserts with Kids
How about you? What are your favorite recipes to cook or bake with kids?
Pin It For Later