How to make mini Halloween gingerbread houses with kids, including a gingerbread house recipe (that works for cookies, too) and ideas for decoration.
Updated August 2022
Gingerbread houses aren't just a December activity! We've made full size Halloween gingerbread houses many times before, decorated with candy corn and and Autumn colors. They are fun and festive and a yummy treat!
But for this baking activity, we've decided to keep our houses small, so everyone can have their own to decorate with full artistic freedom.
Here's how we made our cute little Halloween gingerbread houses…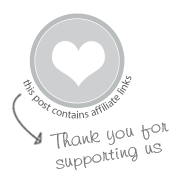 Halloween Gingerbread House
MATERIALS
Gingerbread cookie dough (see the printable recipe below)
White icing (you can mix powdered sugar with milk and it works great, but you can also make royal icing with egg whites, too)
Halloween candy (think candy corn, Reese's Pieces, anything in autumn colors, and mini chocolate chips work well, too)
A piece of cardboard to assemble your house on (wrap in foil first, if you like)
INSTRUCTIONS
Make gingerbread dough

Use the recipe below, or your favorite gingerbread recipe, to make a batch of cookie dough.

Cut out house shapes

Use a knife to cut out the shapes you want to use. You can use this template for a house, or cookie cutters to make any shape you want!

Bake your shapes

While your cookies bake, you can make a batch of icing.



Make your houses!

Once your cookie shapes have cooled, use the icing to assemble your mini gingerbread house. Then use more icing to decorate with your candy and sprinkles!


You can also bake and decorate gingerbread people or animals to go with your houses! Or jack-o'-lanterns! Your home will smell delicious and you'll have a fun little (temporary) Halloween decoration!
Here's your recipe…
Print
Mini Halloween Gingerbread Houses
---
Description
A delicious and easy gingerbread cookie recipe that works for both gingerbread houses and cookie shapes. Adapted from Food.com. 
---
1/2 cup

sugar

1/2 cup

molasses

4 1/2 teaspoons

pumpkin pie spice mix

2 teaspoons

baking soda

1/2 cup

butter (

1

stick)

1

egg

3 1/2 cups

all-purpose flour
---
Instructions
Heat sugar, molasses, and spices to boiling in a medium to large pan.
Remove from heat and stir in baking soda, letting it foam up.
Add butter and stir occasionally as it melts.
Whisk in egg.
Add flour and stir with a wooden spoon (not all the flour will mix in).
Dump mixture onto counter and knead until the flour is incorporated.
Use a rolling pin to roll dough to approximately 1/4 inch thick.
If making gingerbread cookies, cut with cookie cutters.
If making gingerbread houses, print or make a paper template. Arrange the template pieces on the rolled-out dough and use a knife to cut them out.
Place gingerbread pieces on a parchment paper-lined baking sheet and bake at 325 degrees Fahrenheit for 12 minutes. Let cool on a wire rack.
Assemble and decorate with a simple icing (mix 4 cups powdered sugar with 1 teaspoon of vanilla and enough milk to give it a spreadable consistency).
---
How about you? Would you make Halloween gingerbread houses with your kids? Or Autumn gingerbread cookies?
More Autumn Baking for Kids
Autumn Arts & Crafts Ideas & Supplies
Download our FREE printable idea list of 31 Halloween activities for kids & families! Or just check out the blog post with the links. So many fun ideas for Halloween!
And be sure to check out our FALL family fun list in our Amazon store! It includes supplies for fall arts & crafts, autumn toys, Halloween ideas, and picture books about autumn.
PLUS: We're offering 50% OFF and MORE on our Kids Art Spot Halloween workshops, Fall workshops and bundles. (Sale ends October 31, 2021 at 11:59 pm EST)
Pin It For Later