We made a Halloween gingerbread house last year, just 'cause, decorated with candy corn and and Autumn colors. It made such a big impression that the kids have been asking (and asking) to do it again.
I finally said yes and we went shopping for molasses and spices to make the gingerbread (after my vote for trying the graham cracker gingerbread house method was firmly vetoed) and Halloween candy.
We decided to keep our houses small this year so we could each have our own to decorate with full artistic freedom.
Here's how we made our cute little Halloween gingerbread houses…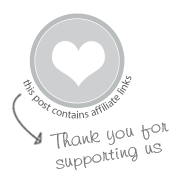 MATERIALS
Gingerbread cookie dough (see the printable recipe below)
White icing (we just mixed powdered sugar with milk and it worked fine, but you can also make royal icing with egg whites if you like)
Halloween candy (think candy corn, Reeses Pieces, anything in autumn colors. Chocolate chips work well, too)
A piece of cardboard to assemble your house on (wrap in foil first if you like)
How to Make Mini Halloween Gingerbread Houses