We painted some heart cookies with food coloring recently, just for fun.
And you know, because we have to do all things heart related around Valentine's Day.
Here's how we did it…

How To Paint Heart Cookies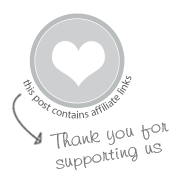 INGREDIENTS
Uncooked sugar cookie dough (make or buy)
INSTRUCTIONS
1. Roll and cut dough
First, roll out the sugar cookie dough and cut into hearts. Place the dough on a parchment-paper lined baking sheet and freeze.
Tip :: Freezing the cookies makes them easier for the kids to work with and means they won't get smooshed out of shape during the process.
2. Mix paint
While the heart cookies freeze, prepare the "paint" by diluting the food coloring with water or milk to create the shades and tints desired.
Note :: We did this once before (painting directly on the uncooked cookies) but the colors were too dark and intense, so this time I diluted the food coloring with water (yellow and red) and milk (pink) first and think the colors worked out really well.
3. Paint cookies
Now it's time to paint the cookies using Q-tips (cotton buds) as brushes.
I make these kids do art to get treats!
4. Bake cookies
Finally, bake the cookies according to the recipe guidelines.
After baking the cookies, the kids admired their artworks briefly, then ate them!
We've also painted with food coloring on glazed cookies and glazed cupcakes. It's a very different look, but works equally well. And of course we decorate with icing and sprinkles.
I've been really curious about the edible "Food Writer" markers, though. Has anyone used them?
MORE VALENTINE'S DAY FOOD TO MAKE WITH KIDS
Pin It For Later