Create this easy DIY Christmas garland with coffee filters (big or small) and liquid watercolors! Simple for kids to make and beautiful to display! Original post by Jean Van't Hul with updates by Rachel Withers.
Updated November 2022
We recently did some coffee filter painting in Christmas colors, then used them to make a Christmas garland which we LOVE.
DIY Christmas Garland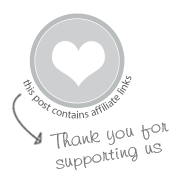 MATERIALS
INSTRUCTIONS
Time needed: 20 minutes
Paint coffee filters

Be aware the liquid watercolors will bleed through so prepare your surface accordingly. We taped ours to a big piece of cardboard.

First we painted the coffee filters, using our liquid watercolors. Our gold was tempera paint that I thinned down. And you can also use regular watercolor paint palettes.


Continue painting

Decide how long you'd like your garland and be sure to paint enough coffee filters. We used a mix of big Texas snowflake filters and standard coffee filters in our revisiting of this post.

But we stuck with the red, green and gold paints palette. The metallic watercolors add a lot!

Let coffee filters dry

After painting, set aside the coffee filters to dry for a few hours. We left ours to dry on the cardboard but moved it inside to dry overnight.

String garland

After the painted coffee filters dried, we folded them in half and glued them over a ribbon.

Hang garland

This festive holiday garland looks beautiful hanging anywhere in your home!
Here are the finished garlands, aren't they beautiful?
String them on the wall, over doorframes or windows, or even decorate your Christmas tree with them!
Looking for even more holiday crafts for your family?
Check out our Holiday Arts and Crafts bundle from Kids Art Spot, our kids art club! Filled with 12 fun holiday activities, each with a step-by-step video tutorial and printable instructions, plus 12 fun and festive drawing invitations to encourage your kids to think and draw creatively.
Pin It For Later