Maia and I made some more Christmas cards together by printing with styrofoam — the first activity on our advent calendar.
This was our second attempt at how to do styrofoam printing — this time we were much more successful! The materials make all the difference!
We used printing ink instead of tempera paint, a proper brayer instead of a paint roller, and thicker styrofoam (from a meat tray) instead of a thin styrofoam plate.
Here's a video showing Styrofoam Printing in action! And don't forget to keep scrolling for step-by-step instructions on how to use this fun technique to make festive Christmas cards.
How To Do Styrofoam Printing With Kids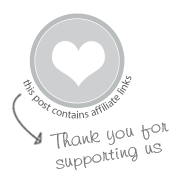 MATERIALS
Thin paper, such as copy or printer paper, for the initial drawing
Pencil
Styrofoam (we used pieces cut out from the bottom of meat trays, but you can also buy styrofoam sheets specifically for printmaking)
An acrylic box frame or a plate (for spreading ink)
White paper (we used watercolor paper this time but often use a smoother paper such as sulphite paper)
Spoon
INSTRUCTIONS
Cut paper

To begin, cut the thin paper to be the same size as the styrofoam sheet you'll print with.

Draw design on paper

Then, draw a picture on the thin paper first. This step is optional, but it means you can draw a few different designs before choosing which one you want to print. It also makes it easier for younger children to transfer their image to the styrofoam.
Maia made a couple of small drawings to use for her prints, a sun and a "Christmas octopus".

Trace drawing

Hold the drawing in place over the piece of styrofoam and trace the drawing with a pencil. You can also use the pointy end of a paint brush, a chopstick or something similar. Press down firmly, but evenly while tracing the image.

Assemble printmaking materials

Gather together a brayer, an acrylic box frame (we use the same one for monoprinting — these are so useful!), two colors of block printing ink, blank cards (watercolor paper folded over), a spoon, and the styrofoam plates (drawings).

Ink the brayer

Squeeze some ink onto the plexi frame and spread it around with the brayer. Once the brayer is coated with an even layer of ink, roll it over your styrofoam drawing.

Print the design on paper

Position the styrofoam on top of the paper or card and use a spoon to rub over the paper to help transfer the design.

Let dry

Either lay your prints out to dry, or hang them using clothespins like we did.
Et voila! Many styrofoam printed suns and Christmas octopuses (octopi?).
This was so gratifying and fun that I wish we had learned how to do styrofoam printing long ago! With the right materials.
Our brayer is an old one that my Grandma passed on to me, but you can buy them at art supply stores or on Amazon.
MORE IDEAS FOR HANDMADE CHRISTMAS CARDS
Pin It For Later