Here's how to make faux stained-glass valentines with black glue. An easy kids' art activity for handmade valentines cards.
Updated November 2022
This faux stained-glass project was one of those ideas that we found online and only tried once, despite it being successful. For some reason, sometimes we check things off in our heads as "done" and then never revisit it, even though there are so many different ways to approach it.
We know that we should revisit art techniques and activities over time for many reasons, and yet we don't always do it. Usually, we get distracted and start thinking about the next cool art idea…
But this time, we did actually revisit the faux stained-glass technique and we're so glad we did. We all had fun with it!
The basic idea is to mix white school glue with enough black acrylic paint to color it. Squeeze out a glue design onto heavy paper and let it dry, then paint with watercolor paints.
The black glue acts as the "lead" in the stained glass and keeps the paint colors separate in the finished artwork.
Here's a video showing the Black Glue Stained Glass Activity in action! If you want to see how we used this process to make Valentines, keep scrolling for step-by-step instructions.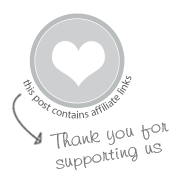 How to Make Handmade Valentines Cards
MATERIALS
INSTRUCTIONS
Make black glue

First, make your black glue. Open the top of your half-empty bottle of white glue. Add a good squeeze of black acrylic paint to the bottle and, if you're slightly unsure of how well they will mix together, add a touch of water, too.
If you have a more liquid-y craft acrylic paint, skip the water. Screw the top of the glue bottle back on tightly and shake well to mix.




Create your design

Next, squeeze out a glue design onto watercolor paper. You can do this with any sort of image, scene, or abstract art. We used the technique to create hearts for Valentine's Day.



Let glue dry

Allow glue to dry completely, preferably overnight. The black glue will flatten somewhat as it dries and that's okay.



Paint with watercolors

Finally, paint your heart art or other glue design with watercolor paints. You can use either watercolor cakes in tins, as we did, or liquid watercolors.


The black glue looks like the lead in real stained-glass windows and also helps to keep the colors separate in the finished painting. Neat, huh?
We especially like how these scribble art hearts look!
Ready to try this? You probably have everything you need, already, except perhaps the black acrylic paint which you can pick up at the craft store.
More Valentine Art Ideas
Pin It for Later