Learn how to create a vision board template that is portable with this simple DIY accordion book format. Bring this vision board with you wherever you go!
Updated March 2023
This week I created a vision board and wanted to share a bit about the process.
This one is an accordion-fold portable vision board. I can fold it up as a book and take it with me (when I travel, for example) or stand up in my office to look at for inspiration when I'm home.
I LOVE this new format!
This is an easy DIY accordion-fold book format that you can make with just file folders and a glue stick. It's simple to make and sturdy, which makes it a great base for vision board books.
Here's how to make this vision board template, plus four more ways to make vision board books.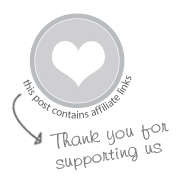 Creating a Portable Vision Board Template
MATERIALS
*Recommended reading: 8 Places to Find Magazines for Vision Boards (and other ways to find pictures you can use)
INSTRUCTIONS
Create an Accordion-Fold Base

First, hold a file folder in front of you face down with the opening at the top. Fold over the tab edge toward you about an inch. Run your thumb along the edge to crease. Trim any excess from the bottom flap of the file folder so that it is flush with the creased edge.

Repeat with more file folders until you have 3 or 4 with the tab edges folded over.

Now run a line of glue along the tab fold of one folder and carefully position the flat edge of another folder along it so that they line up along the folded edge. Press firmly to adhere. Glue the rest of the folders on in the same manner to create an accordion fold book.

Press the just-glued accordion fold book under something heavy, such as a stack of books, to hold the edges firmly in place while the glue dries as well as to flatten it.

Note: I have a video tutorial showing how to do this (as well as several other vision board formats) in my self-paced Vision Board Magic Workshop.

Now use your new accordion-fold base to make a vision board book!


Find images that represent your goals

Browse through your magazines looking for pictures and words that represent your dreams and goals. Cut out the ones that speak to you.

If you'd like some help figuring out what to put on your vision board, download my free PDF workbook, 11+ Ideas for What to Put on Your Vision Board. It is filled with ideas, examples, and prompts to help you craft your own powerful vision board, especially if you're not sure what to put on yours.



Arrange images & words in your vision board book

Begin to arrange your images and words on the blank pages of your accordion-fold book. 

You can do this anyway that you like! Here are some ideas to get you started.

Arrange them intuitively 
Just start pairing images and words together to reprepresent your dreams and goals. Arrange them on the pages of your book as you feel they flow visually or thematically.

Arrange the book with one goal per page. 
You can dedicate each page of your book to a particular dream or goal and group images and words together on that page to represent it.

Arrange the goals & images by area of life.
You could do one page for dreams, goals, and intentions related to family. One for career. One for health. Other possible life areas include finances, spirituality, relationships, hobbies/fun, education, travel/adventure, etc. 



Glue down your images & words

Once you have an arrangement that you are happy with, glue everything in place.

 (Optional) Make your vision board book interactive

You can also include some fun add ons to make your vision board book interactive, such as calendars, pockets, pop ups, and note cards.


All in all, this vision board is just the right mix of happy-making images and words that strike a chord with me, as well as a motivating (yet loose) plan. And I just love how it folds up like a book that can be flipped through and carried anywhere! Or, unfurled along a shelf in the office to provide regular inspiration.
It's the perfect portable vision board book.
5 More Ways to Make a Vision Board Book
If you're interested in making a vision board book, but are not crazy about the accordion-fold idea, here are a few other ways you could do it:
Use a 3-ring binder to hold individual vision board pages. Create a vision board for each goal or area of your life on a piece of 8 ½ by 11 inch cardstock or paper. You could punch holes in them, or slip them into page protectors.
Upcycle an old children's board book into a vision board book by collaging images over the pages.
Use a photo book service (Mixbook, Shutterfly, etc) to create a vision board book. Instead of family pics, upload images to represent your goals.
Start with a pre-made blank book or journal and collage images of your dreams and goals onto the pages.
Make your own pamphlet-style book and use that as the starting point.
Do you make vision boards? If so, I'd love to hear about your process!
More on Making & Using Vision Boards
Pin It for Later