Blow painting with straws is simple yet lots of fun for kids of all ages. Use a straw to blow liquid paint around on paper, creating interesting designs.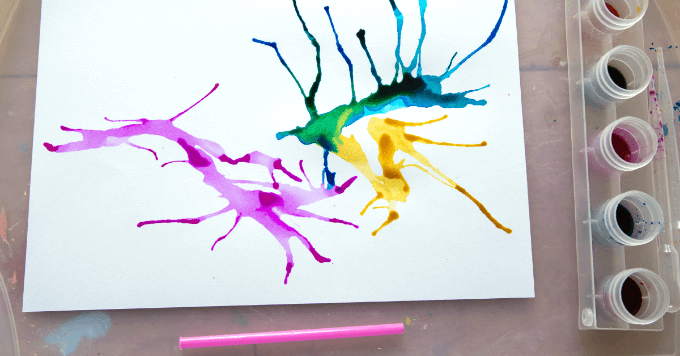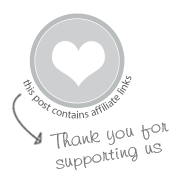 We are not new to blow painting with straws but, gosh, it had been a while. We used to do this when Maia was younger and I included it in my first book (The Artful Parent: Simple Ways to Fill Your Family's Life with Art & Creativity).
But then? It kind of dropped off our radar. In the, "We've already done that art activity" kind of way.
I shouldn't have let it, though.
This is one of those simple art activities that you can do over and over again and enjoy it every time and get a different result every time.
Here's a video showing blow painting with straws in action:
We recently revisited blow painting, and had so much fun with it! Day after day after day.
We had the activity set up at the studio table for over a week and every day, multiple times per day, various configurations of kids and adults would be in there blowing paint around paper with a straw.
It's kind of funny to watch, super satisfying to do, and the results are always interesting.
Here's how to do blow painting with a straw.
Blow Painting with Straws
MATERIALS
*If you don't have liquid watercolor paint, you can use watered-down food coloring or watered-down tempera paint.

INSTRUCTIONS
First, set up for the activity.
Place a sheet of paper on a tray with sides (a baking dish would work) or do this activity outside.
Cut your straws in half, so your blowing action is more effective and closer to the paint. If you're doing this with young children, poke a hole halfway up the straw with a pin. This will prevent them from sucking paint into the straw by accident.
Put your liquid watercolor paints in small dishes, or use paint cups in a base as shown here.
Get out your dropper.
Step 1. Add Paint Drops to Paper
Use the dropper to transfer one or more droplets of liquid watercolor paint to the paper.
Step 2. Blow at Paint Through Straw
Blow through the straw at the paint drops, forcing the paint to move along the paper in tiny rivulets.
Step 3. Repeat with more paint
Repeat steps 1 and 2 with more paint and more colors until you are satisfied with your design. Set aside to dry and start over with a new sheet of paper!
See why we use a tray? The paint can splatter off the paper. (You could also do this activity outside, of course.)
It can be interesting to see the colors run together and mix, as in the photos below. You can see where yellow blended with blue to make green.
Once the paint dries, you can display your artwork or use it to make cards, wrapping paper, collage papers for other art, or more.
We used some of our blow paintings as drawing prompts…
Want some more fun ideas for blow painting with straws?
You can use the blown paint to create certain special effects, such as hair, tree branches, spewing volcanoes, monsters, and fireworks!
5 More Blow Painting Ideas for Kids
Pin It for Later