How to make homemade bubbles, so your kids have a never-ending supply of bubble solution. This is the easiest and quickest DIY bubble recipe, and it doesn't use glycerin.
Updated July 2023
If your kids love blowing bubbles as much as ours do, then this recipe is just for you! It makes a big batch of solution and the bubbles it makes are fantastic!
We've got lots of tips and tricks for you, to help make your summer full of bubbly fun!
First, here's a video tutorial on how to make the bubbles. And keep scrolling to get the bubbles recipe and some photos of the bubbles in action!
How to Make Homemade Bubbles
INGREDIENTS
INSTRUCTIONS
Combine the sugar and water

Whisk the sugar into the warm water until the sugar dissolves.



Whisk in the soap

Add the dish soap and whisk to combine.



Let sit

This step is only if you have some patience or think to make the solution ahead of time.

Letting the homemade bubbles sit for a couple of hours or even overnight helps them work a bit better but is not strictly necessary.



Blow bubbles!

Now it's time to blow bubbles with your new bubble solution!


Super easy, don't you think?
How Do You Make Super Bubbles?
If you want to make extra strong bubbles, you can follow the simple recipe listed above, and let the solution sit overnight. This will help the bubble solution come together.
You can also add either 1/4 cup of vegetable glycerin, or 1/2 cup of corn starch, or 1 tablespoon of baking powder to your homemade bubble solution. Each of those ingredients make the bubbles work just a tad bit better.
We usually have a big bowl or two of the bubble solution out and available to the kids. You can also fill individual mason jars with bubble solution for each kid. Or re-use one of those no-spill bubble cups for your homemade bubbles.
Sometimes we blow bubbles, sometimes we let the wind do the work, and sometimes we twirl around with a bubble-laden wand in tow.
Bubble Wand Ideas
We recently discovered bubble wands with two handles that make really big bubbles, and we can't get enough of them!
If you're looking for something extra fancy to blow bubbles with, be sure to check out our homemade bubble wands!
You can also try making 3D geometric bubble wands! String pipe cleaners through cut straw pieces to form a pyramid or a cube shape. Then dip the entire shape into your bubble solution and see what geometric bubbles look like!
How about you? Have you made your own bubble solution? Do you have a favorite recipe?
People Also Ask
How do you make bubbles without glycerin? We find that this basic recipe of 4 cups warm water, plus 1/2 cup sugar and 1/2 cup blue Dawn dish soap works great without glycerin!
Can you make bubble solution with dish soap? Yes! This recipe calls for plain old blue Dawn dish soap.
Do bubbles last longer in hot or cold water? Higher temperatures will make the water in the soap bubbles evaporate faster, so colder water is better for long-lasting bubbles.
More Fun Bubble Ideas for Kids
Want even more bubble ideas?
Check out our Bubbles Creativity Pack!
Full of tips & tricks, recipes, and activities this 27-page printable eBook is absolutely bursting with bubbly fun!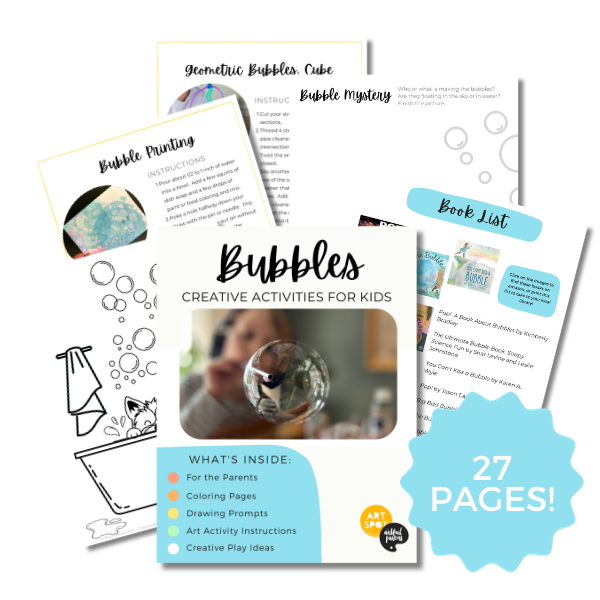 Pin it for Later