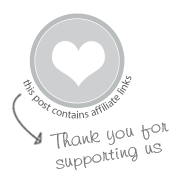 We did some bubble wrap printing and painting last week, which was a wonderful sensory experience for the kids and lots of fun.
We were supposed to do this with the toddler art group, but the entire group was out sick and I already had the studio set up, so I invited my friend Marin to come over instead with her son and another little girl.
Bubble Wrap Printing with Kids
MATERIALS
Bubble wrap
Tape
Finger paint
Paper
INSTRUCTIONS
The kids each explored the bubble wrap first, which I had taped to the studio table, then they dabbed the finger paints on to the bubble wrap.
We used the Colorations brand finger paint
this time, rather than homemade, and I really liked the consistency and color.
Pretty soon the older two were using their whole hands to rub the fingerpaint around.
They really got into it!
Daphne did some fingerpainting too, but not nearly as enthusiastically.
We helped the kids take prints of their paint-covered bubble wrap, both on regular paper and on hearts cut out of coffee filters (just because I had them).
Bubble wrap printing is something I've wanted to do for a while now, and never tried except for this version.
I loved the idea of using it to get the tentative toddlers exploring the fingerpaints with their hands (Thanks, Julie!)—bubble wrap is just too exciting not to touch!
Next time I want to try this with the kind that has big bubbles!
Have you tried bubble wrap printing? I highly recommend it!
Pint It for Later ::