You can make these DIY art journals for kids with recycled and upcycled materials you have around the house. Include drawing prompts such as magazine images altered pages to inspire your kids creativity!
When I decided to make art journals for the kids recently, I knew that I wanted to incorporate interesting drawing prompts and to use recycle bin materials.
I like to offer the occasional drawing prompt to inspire my children to be more creative.
Drawing prompts and challenges encourage us to think and create differently.
Instead of a blank piece of paper where we might draw the same thing we've been drawing for the last week, we could be presented with a hole in the paper and decide how to incorporate a hole into our artwork or whether to draw around the perimeter of the hole, etc.
Or we could be presented with a small portion of a magazine picture pasted to our paper (my children's current favorite) and decide how to complete the picture or incorporate the magazine image into our drawing or painting. These are just two of the many drawing prompts we've used in the past and that I incorporated into our new journals.
Would you like to make one or more art journals for kids? This is something you could do with the kids, for the kids, or even for yourself. Here's how…
DIY Art Journals for Kids
Note: These DIY art journals could easily be made by kids, however I made these for my children this time.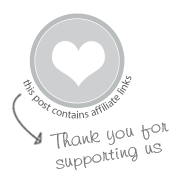 MATERIALS
Thin cardboard (from cereal boxes, cracker boxes, etc)
Recycle bin paper (grocery bags, magazines, notecards, lined paper)
A variety of papers including colored construction paper, patterned paper (think scrapbooking or origami paper), and white drawing paper
Artwork (either art that you make specifically for these art journals or artwork that might have been headed for the recycle bin)
Sewing machine OR needle & thread
Scissors
Ruler
Self-healing mat OR thick piece of cardboard
Glue stick
INSTRUCTIONS
Step 1. Make the Journal Cover
Fold your thin cereal box cardboard and cut it into the size you want your art journal to be. You can make your art journal as big as a box of cereal or as small as a notepad. I turned my cardboard over so that the plain brown side would be on the outside.
Step 2. Cut your Pages to Size
Cut and fold a variety of papers to fit inside the cardboard journal cover. They don't have to fit exactly. I had some pages shorter than others and think it adds to the interest. (Don't worry about pages being too big right now. We'll trim them down later.)
Step 3. Arrange the Journal Pages
Nest the pages in any order desired. I liked to provide variety, putting brown paper bag pages next to white drawing paper next to colored construction paper, etc.
Step 4. Sew the Art Journal
Sew through the pages and the cardboard cover with a straight basting stitch on the sewing machine. OR hand sew with needle and thread. OR punch holes and sew with embroidery floss or yarn.
Step 5. Trim the Edges
Trim the edges of your art journal. Set the journal down on your self-healing mat (or thick cardboard), line up a ruler with one edge of the book cover, and use the utility knife to slice through any paper overhanging the cover. Repeat with the other edges.
Note: Using the utility knife is a job for an adult. You could also use scissors and trim a few pages at a time if you prefer.
Step 6. Add Drawing Prompts
You can use your new art journal as is—maybe decorate the cover first with a small artwork or stamp the words ART JOURNAL—or you can alter the pages with drawing prompts and challenges, such as…
Drawing Prompts and Challenges to Add to Art Journals for Kids
Make a flap
Draw a squiggle or other drawing prompt
Other? Use your imagination!
Use a glue stick to add any extra elements.
Step 7. Let dry
Press your new DIY art journal under some heavy books as it dries. If there's the possibility of glue sticking pages together, you can let it dry first before pressing it or place wax paper between the pages as it dries.
Step 8. Use the Art Journals for Kids
Use your new art journal! You can draw in it with any drawing tools (pen, pencil, marker, crayon)…
…or collage in it (mine liked using washi tape and hole reinforcement stickers) or even paint in it.
DIY art journals make great gifts for kids or adults.
Give as is or combine with a pen or a few other art supplies. If you'd like to add a book to the gift package, Beautiful Oops! is an especially appropriate one.
Have fun!
Question for you… Would you make art journals for kids? If so, what creative drawing prompts would you add?
Pin It for Later