Yes, I'm still printing with these heart doilies.
I don't know what it is with Valentine's Day and hearts. It's such a simple image and theme, you'd think I'd tire of it quickly. Some holidays I almost completely skip over, yet every year I seem to get sucked into the Valentine's theme.
But… before I get into the heart prints (which you've probably heard enough about already), I want to tell you about these DIY gift bags that I sewed using paper grocery bags.
It's a lovely idea, but it's not mine.
I found it on a blog before Christmas and sewed up some to wrap gifts in then. However I can't remember where I saw the tutorial and no matter what search words I type into Google, I can't seem to find it.
Does anyone know or remember? I'm bummed, not only because I want to give credit where credit is due, but also because I want to send you all to this great tutorial that shows you how to make them, step by step.
How to Make DIY Gift Bags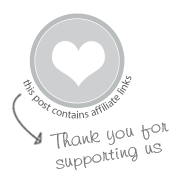 MATERIALS
INSTRUCTIONS
1. Cut paper bag
To begin, cut out a section from the front and back of a paper grocery bag. Turn the bag inside out so that all the printing is on the inside.
2. Sew paper bag
Line up the handles and sew along the bottom three sides.
The tutorial was really nice though, and she used fancy sewing stitches to add a nice decorative touch. My sewing machine is limping along and is in dire need of a tune up so I stuck to a simple straight stitch.
3. Lay out paper doily
First, lay your heart doily right side up on a sheet of newspaper or paper. Have another piece of paper handy nearby.

4. Prepare paint
Now pour a small amount of paint onto a plate (I used an old acrylic box frame) and roll your paint roller around to evenly coat it with paint.
For the printing I used red glitter tempera paint and also some red activity paint (kinda like tempera) just because I had it and wanted to try it. But other than the paint I used (and the paper bags), the supplies were the same as when I first did the heart doily shirts.
5. Coat doily evenly with paint
Roll your paint-covered roller over the doily, coating it as evenly as possible with the paint. (You could use a paint brush or foam brush for this step, but the paint may not be applied as evenly.)

6. Position doily on grocery bag
Set your doily, paint side down, on the center of the paper bag.
7. Print heart design
Lay an extra piece of paper over the doily. Use your hard rubber brayer (or rolling pin) to roll over the paper and doily to transfer the paint evenly to the grocery bag.

8. Remove doily & let dry
Lift the paper and doily off to reveal your heart print.

Pretty, huh? I think these worked well. And they look great on the paper gift bags!
I'm using these bags to wrap my soothing heart pillows.
At Christmas I used them for wrapping things like wool felt potholders and hats — things that are a bit hard to wrap traditionally unless you put them in a box first. And I used a simple rubber stamp to add a design to the front.
For these Valentine's DIY gift bags, I'm enjoying how the design on the bags mirrors the one on the pillows.
I think these DIY gift bags would be a cute way to present a heart-printed t-shirt as well…
Pin It For Later