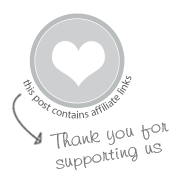 We've been creating handmade accordion books recently, inspired by Susan Kapuscinski Gaylord's new book, Handmade Books for a Healthy Planet.
Handmade Books for a Healthy Planet is filled with book projects based on different formats (scroll, accordion, comic book, slat book), with historical background and how-to information. She especially encourages using recycled materials for the books, including newspaper, paper bags, used wrapping paper, and cereal boxes.
First, we made a couple of accordion books (it was a joint effort) with newspaper, which was a lot of fun and involved the hole punch. Always a big hit! Then I thought of trying it with Maia's large easel paintings (with her permission) both to keep to the spirit of Susan's recycling message as well as to give new life to a couple of Maia's many paintings.
Here are the step-by-step pics and instructions…
Making Handmade Accordion Books with Kids
MATERIALS
Large-ish artwork, such as from an easel painting
Cereal box cardboard
Scissors
Glue
Assorted papers or fabrics for collage
Drawing materials
INSTRUCTIONS
1. Fold the paintings in half lengthwise, then into the accordion, by folding each end back to the center.
2. Cut out the book covers from the cereal box so that they'll be just slightly larger than the accordion book when it's folded up.
3. Decorate the covers with collage by gluing fabric scraps or paper pieces. Let dry.
4. Glue the covers onto the fronts and backs of the books.
5. Add the book contents, either words or pictures or a combination of the two.
For one of the books, Maia dictated a story, and for the other, she dictated a get well message. Both were made for friends.
I think this four page accordion format is about our (her) speed right now. Just enough space, but not too much.
But I'm also looking forward to trying other book formats and projects from Handmade Books for a Healthy Planet. I feel like a whole new creative avenue is opening up for us through making books!
How about you? Have you tried making handmade accordion books with your kids? Or any other kinds of homemade books?
Pin It for Later