Want to learn how to make slime without borax? Here's Maia's best butter slime recipe and video for super soft and stretchy slime.
Updated February 2022
I have watched many slime videos and tried many different recipes of my own. Some were way too hard, some got really sticky after about a day (too much lotion). Some just dried out a lot after a couple days of playing with it (too much borax).
This time though, I think I've created the perfect butter slime recipe. I hope you have fun and that this recipe works for you as well as it worked for me. 🙂
First, here's a video tutorial showing how to make butter slime.
And here's the butter slime recipe and step by step instructions.
Butter Slime Recipe without Borax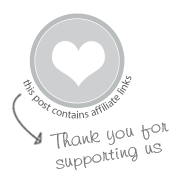 MATERIALS
*We all call it shaving cream, but make sure to buy the FOAM kind rather than cream or gel.
INSTRUCTIONS
Mix glue and shaving cream

Squeeze a large bottle of white Elmer's School Glue into a medium bowl.

Add 1 and a 1/4 heaping cups of shaving foam. Mix thoroughly.



Stir in contact solution

Add 1/8 cup of contact solution and stir. The mixture will come together, become more rubbery, and begin to pull away from the sides of the bowl. (See the video!)



Knead (a lot)

Next, knead and pull with hands until not as sticky (add a bit more shaving cream if necessary).



Knead in Model Magic

Add 3 ounces of model magic in your desired colors.



Poke and knead, stretch and pull until thoroughly mixed.



Add lotion

Make a dent in middle of your butter slime and add a scant tablespoon of lotion. Mix until fully incorporated. Store in an airtight container.


Now it's time to play!
6 Fun Ways To Play With Butter Slime
Spread it with a knife
Smash it with a fork
Poke and knead it with your hands
Stretch and pull it
Bury end the end of a straw in the middle of slime, pinch where straw is and blow to make a bubble
Make a bubble with your hands by stretching the butter slime up and out then quickly dropping the top like a parachute (see video demonstration)
Slime Removal Tip: For that certain someone in your family who the slime loves so much that it doesn't want to let go, grab a little bit of slime and quickly dab at the slime-y area until it all comes off.
Warning: do not get near clothing, blankets, or carpets.
For a different, but cool, texture, mix 1 part butter slime to 1 part model magic.
More Great Slime Recipes + Ideas for How to Play with Slime
Pin It for Later