We're celebrating 12 years of The Artful Parent this month with a FREE anniversary gift of a "Kids Art Bundle of Awesomeness". Freebie includes art tutorials, drawing prompts and an art poster!
It's been 12 years since I wrote my first blog post, starting The Artful Parent. Among other things, I said, "In this blog I plan to write about the Toddler Art Group, about my daughter's art experiences, and, above all, about my attempts to parent in a way that encourages creativity, art, curiosity, and learning."
More than a decade later, I'm humbled by what those unassuming words + photo of my daughter's scribbles has led to.
HEADS UP: Make sure to check out the end of this post for a big FREE thank you gift for being a reader and supporter of The Artful Parent!

HEADS UP AGAIN!: We're running two awesome kids art giveaways this week as part of the celebration and festivities. You can enter one here, on The Artful Parent Instagram page, and the other one here, on our Facebook page.
I started out simply sharing my own experiences with my toddler and our toddler art group. Over time, I learned more—from experience, from books, from other parents, and from art educators and experts—and did more.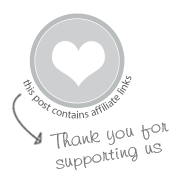 All the while, I shared what I learned with you.
First, simply through blog posts, then also books, then I added in social media and e-mail, then video, then an online course for parents, then a kids' art club.

What's next?
Who knows!
The Artful Parent's 12th Anniversary!
You never know where a single step will take you. And what the ripple effect will be for you and for those around you.
I have had so many parents thank me over the years for the difference The Artful Parent has made in their lives. They have said, in different ways, that my enthusiasm for and approach to children's art and creativity (easy, fun, accessible, no stress, playful, process-oriented, whole child/whole family) has helped them to incorporate more art into their families.
And that the effects have been transformative.
Many kids' art authors, teachers, bloggers, and Instagrammers have told me that it was my blog or book that got them started down the path of kids art and creativity.
My family's life has obviously been affected deeply. Hopefully for the better!
And I myself have changed and grown so much through the process of blogging, teaching, connecting, learning, sharing, writing books, working with editors and publishers, launching books and products, running a business (even though I initially entered the business side of things very reluctantly, kicking and screaming), working with companies and sponsors, going to blog and business conferences, starting and running a kids' art club membership site, managing a team, doing art with my own two very different kids and their friends, running kids art groups and classes, creating videos, and more.
I'm a better person for having started The Artful Parent. And I hope the world is a better place for it as well.
Looking for ways to fill your family's life with creativity?
Creativity starts at home. We can all foster children's creativity through simple and fun art activities that we can do in the family environment.
Let's raise creative kids!
I invite you to explore The Artful Parent for fun art activities, check out one of my books, try out the kids art club, or take my online course for parents.
And if you've been hesitating about taking a step in a new direction, I say go for it. You never know where it will take you and who you will become in the process!
FREE GIFT! The Kids Art Bundle of Awesomeness
We have a special gift for you in celebration of the 12 year anniversary of The Artful Parent and to thank you for your readership and support! It's totally FREE and we're calling it the Kids Art Bundle of Awesomeness!
Here's what's inside the bundle!
10 Fun Kids Art Activities (as video tutorials and step-by-step PDF printables)
10 Drawing Prompts for Kids (to inspire creative drawing & thinking)
1 Creativity Poster (as a PDF printable) to hang on your wall for inspiration
I hope you enjoy your free gift!
Pin It For Later