This circle art activity is a great open ended art activity for kids with new tools, materials, and techniques added as interest demands. Start by reading The Dot by Peter Reynolds if desired.
This circle art post should probably be subtitled, Going with the Flow.
Because that's what can, and often does, happen with open ended art activities for kids.
Here's an example from the other day when we did a group circle art activity, inspired by Peter H. Reynolds' book, The Dot.
We started with some circle art that continued to evolve in ways that I couldn't have predicted as we worked on it throughout the day. We just went with the flow and it was wonderful.
Do you ever have experiences like that? Where you start an art activity even though you have little idea what you're doing? Or what it will become?
Art can evolve in interesting ways if you let go of preconceived outcomes, let the kids decide how it will proceed, or let an art material or tool inspire and influence the course of the activity and the finished product.
Inspiration For Our Circle Art
I taped a couple of large pieces of paper to our kitchen table and put out some watercolors and colored pencils and added a few round (traceable) objects to the table. Then I invited the kids to read The Dot with me on the sofa before we dove into the family art project.
The Dot is more about finding artistic self expression and confidence than about circle art, but nevertheless, we used it as inspiration for this art activity.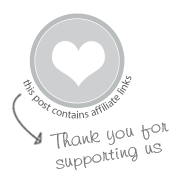 MATERIALS
INSTRUCTIONS
1. Trace Circle Shapes
First we traced plates and bowls and cups using both colored pencils (pictured here in our new pencil holder) and watercolors (we used a few different watercolor cake sets, each bought at different times from Stubby Pencil Studio where I buy most of our watercolors and colored pencils).
2. Add watercolor dots & circles
Then we added some free-form watercolor dots and circles (and hearts, a pig, a poodle, a football, etc). Then I got out the compass and the kids tried their hand at it.
Friends joined us for parts of the day, adding their own circles and marks.
3. Print additional circles with household objects
A citrus juicer that I had put on the table to trace made great prints (a discovery by the 4 year old) which then led to more circle printmaking with sponges, buttons, a circle foam piece, and a couple of circle-shaped stamps.
There was even some salt and watercolor experimenting.
4. Splatter Painting
Finally some drippy brushes inspired (modest) splatter painting for small dots and circles. (I usually like to keep splatter painting as an outdoor or studio activity, and was admittedly nervous about letting it get out of hand in the dining room.)
5. Try metallic paints
I got out the red and gold BioColor paint for the printmaking part and the metallic gold especially led a wonderful finishing touch over the watercolor painting.
When we began, I had no idea that what I thought could be a simple half hour art activity would turn into an all day affair (off and on) with so much experimenting with different art techniques and tools.
The moral of the story is to stay open to art surprises.
Open ended art activities for kids provide important learning experiences and are wonderful simply for enjoying the process of art making. Even if you're following a specific art or craft project tutorial, though, be open to experimenting and going with the flow.
Ways to encourage an evolving art activity

(Thanks to the wonderful Julie Liddle of Art in Hand for first sharing this approach with me years ago.)
Set out the initial activity and let the kids do it.
When they begin to lose interest, add another material or tool to the table (such as the compass or the printing items). Chances are they'll be inspired to work on the artwork more with the new item.
Repeat #2 again as often as desired with new materials, tools, techniques, colors, etc.
Alternately, you can encourage your children to do this themselves by asking open-ended questions such as:
"Are there any other materials you'd like to try on this?"
"Are there any other techniques you'd like to try on this?"
"Is there anything else this artwork wants?"
"Would you like to add more detail anywhere?"
This could work as easily with a large group art activity like this one as with smaller individual pieces.
How about you? Any other ideas for encouraging open ended art activities for kids?
Have you had the experience of starting an art activity with your kids and having it evolve in ways you didn't expect?
Pin It For Later