The Summer Olympics start today! And, as I said in my post earlier this week on obstacle courses for kids, we've been holding our own backyard Olympics.
Sort of.
If you can count some slip 'n slide action as Olympic level fun. And racing through an obstacle course constructed out of Fort Magic tubes and connectors.
But since it's the Olympics, we needed an Olympic sign. And some Olympic medals for the kids.
I'll show you how we created both so you can have your own backyard Olympics, too!
DIY Olympic Medals for Kids
MATERIALS
Plastic lids (we used translucent plastic lids from the tops of oatmeal boxes)
Sturdy paper (we used watercolor paper)
Hot glue gun
Ribbon, 1 1/2 – 2 inches wide
Oil pastels or other art supplies
Mod Podge (optional)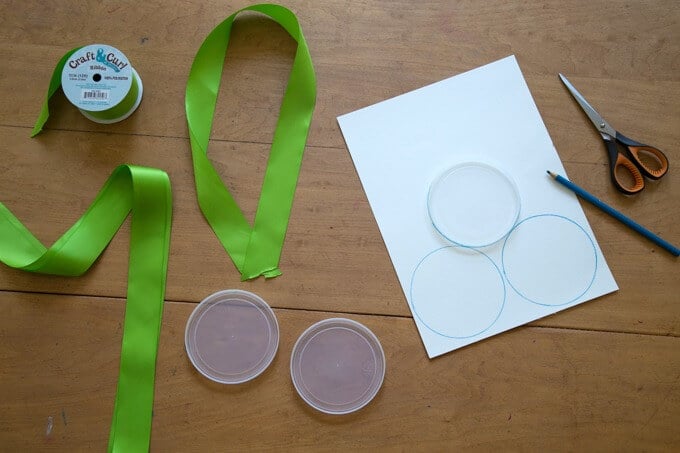 INSTRUCTIONS
First, trace the lids onto the paper.
Cut the paper circles out inside your traced lines (so you'll be able to fit the paper inside the lip of the lid).
Glue the paper to the inside of the lid with a few dots from the hot glue gun.
Cut a length of ribbon that will allow the medal to sit in the middle of your child's chest. Form a loop, overlapping at the bottom. Use a dab from the hot glue gun to glue the overlapping ends together. And then add another dab or two to glue the ribbon to the back of the lid.
Make more! We wanted first, second, and third place ribbons, so we made three.
Note :: I did all the above steps myself and then handed the blank ribbons to the kids to decorate.
Decorate your new award medals! Maia, Daphne, and their friend Emily used oil pastels to write 1st, 2nd, and 3rd and to draw the Olympic circles.
You can use any art materials including markers, paints, stickers, etc. And decorate them any way you like, of course (no Olympic circles necessary).
Add a coat of Mod Podge (optional).
Use your new DIY Olympic medals for backyard races, games, and obstacle courses!
Make Your Own Olympic Games Sign
Maia also made an Olympic Games sign for us with a length of white easel paper, a mixing bowl, and some paint sticks.
MATERIALS
Large white poster board or a length of easel paper
Mixing bowl
Paint sticks, oil pastels, or markers
INSTRUCTIONS
Simply trace the mixing bowl to create overlapping circles of blue, yellow, black, green, and red on the paper!
Maia used paint sticks, because we had them, but you could use markers or oil pastels or even poster paints.
If you're unsure of how well you will space the circles, you can always lightly trace the bowl with a pencil first, then add the color or paint over them with the appropriate colors.
Use your new Olympic medals and sign to host your own backyard Olympics!
A Fort Magic Giveaway
P.S. There is now a Fort Magic giveaway added to the bottom of the post about how to make your own obstacle course for kids! So if you'd like the chance to win a Fort Magic kit in order to set up a backyard obstacle course like the one we did for your backyard Olympics, head over there to enter. Good luck!
Pin It for Later