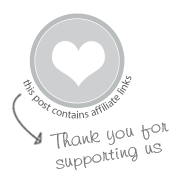 I have often raved about Ed Emberley and his books, mostly because the kids like them so much and his simple step-by-step drawings give them the tools and confidence to draw things they might not normally draw. And because they are fun.
Well, every time I mention Ed Emberley here or on my facebook page, I get two main responses—I loved his books as a kid and we love the fingerprint art book. And I smiled and nodded but didn't get the fingerprint art book because I thought it was too gimmicky.
I mean, why do you need fingerprints when you can just draw?
But I heard about the fingerprint art book one too many times and finally picked up a copy the next time I was at my local bookstore.
The actual title of the book is Ed Emberley's Complete Funprint Drawing Book, by the way, in case you want to look for it.
Of course my kids love this book.
They love making the finger prints.
They love turning the fingerprints into people or animals or flowers or anything with a few strategically placed pen lines.
They love the rainbow stamp pad that I presented with the book.
They love it all.
Here's a video showing Fingerprint Art for Kids in action! And keep scrolling for even more creative ways my girls used fingerprint art.
Here are some of the cards and artwork they've created by using the fingerprint art book as a guide.
So… I suggest you do what I finally did and listen to all the folks who have been raving about the fingerprint art book. It's worth checking out.
I bought ours from our local bookstore but I imagine most libraries have a copy as well. Or you can order the book on Amazon for 8 bucks and change.
If you don't have colorful stamp pads, I recommend grabbing those, too. We picked up a Melissa and Doug rainbow stamp pad at a toy store, which has been fine, but I might try this well-rated Colorbox stamp pad next time.
How about you? Have you tried fingerprint art with your kids yet?
Pin It for Later ::