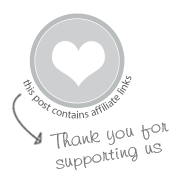 I have some new canvas prints on my walls that I love.
Love, love, love!
The prints are from Mixbook. They asked me if I would try some out (they are a new product for them) and share my experience with you and I said, "Why yes, of course!" and "Did I mention that I recently moved to a new house and have very little on my walls as of yet?"
Okay, I only said that second part in my head.
So, anyway, thank you to Mixbook for sponsoring this post and for sending me free canvas prints for my walls. As always, all opinions expressed are my own.
First, I had to choose what to put on my canvases…
I decided I wanted some of my beloved nature on my walls, so I ordered canvas prints of my autumn leaf prints…
…and this sweet fern heart.
I also wanted a family photo for the wall so ordered a print of the portrait Lenka Hattaway took of us this fall.
When the boxes with the canvases arrived, I was blown away.
The prints are beautiful.
The quality is amazing.
The details are impeccable.
I love the color, the canvas, the texture, the gallery wrapping, the thickness, the backing, and how there are two hanging hooks on each canvas to let you decide whether to hang your print horizontally or vertically.
Plus the canvases were packaged and presented so well!
I hung the red autumn leaves in my bedroom above my red dresser.
And I hung the family photo in our main living space and then set up a table underneath for family stuff and to house our two rolling Ikea carts (one holds kids' art supplies near the dining table and one has my photography gear plus a few other work related things).
By the way, you're welcome to scoff at how I raised my table to accommodate the rolling carts. I felt quite handy and ingenious using packing tape to stack building blocks and sparkling water cans underneath the table legs! Although someone on Instagram suggested that I pull cute socks over them as a disguise…
I have two more canvas prints to find the perfect spot for in my small home. I'm not sure where yet but I love them and will find them good homes.
I love these prints and highly recommend them if you are looking to have prints made on canvas!
I've tried a couple of other companies in the past and while they were fine, these canvas prints by Mixbook are definitely better quality.
Canvas prints are a wonderful way to display your favorite photos, make great gifts, and are even a sweet way to display kids' art (take a photo of your child's artwork then have it printed to canvas).
You can order canvas prints from your photos or learn more about the Mixbook prints here.
They also do regular photo prints!
This post is sponsored by Mixbook; as always all opinions expressed are my own.
Pin It for Later