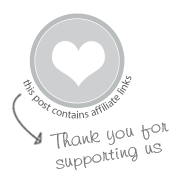 Don't you just love it when a revolutionary new art material comes out?*
Like paint sticks or foam paint or washi tape?
Or, say, markers that don't dry out?
*Maybe it's just me geeking out over here in my corner of the world about the exciting possibilities of new art supplies… Either way, I'm okay with it.
A big thanks to Magic Stix for sponsoring this post and for sending us their markers to try out. As always, all opinions expressed are my own.
The Magic of Magic Stix
I've been sent a case of said markers by the same folks who gave us the paint sticks we use and love. They asked me to try them out and review them here on the blog.
Since the packaging so boldly claimed that the caps could be left off for 7 days and the markers wouldn't dry out, and since I love a good challenge, the first thing I did was to take the cap off one of the markers and stick it in a top cupboard for 8 days.
You know, to run it through it's paces and test things out around here.
I figured, okay, maybe it'll still work but surely it won't be as bright and vibrant as before.
I was wrong.
Not only did the marker still work just as well after being uncapped for over a week, but the color was just as strong and vibrant as before.
These Magic Stix may just be a bit magic.
Plus, they are washable and nontoxic and come in a handy hard plastic case for carrying, storage, or travel. (I really like the case.)
So if you have a kid who is not always super great at getting the caps back on markers in a timely fashion, or you just want some good long-lasting markers, give Magic Stix a try.
Now for our simple, holiday drawing activity for kids. Finally.
Tangle Stars + Printable
We used our new markers to draw Zentangle-style stars and Christmas trees with the idea that we would cut them out and turn them into Christmas ornaments. You could also do this to make gift tags, holiday cards, or a garland.
Note: I have a tangle star printable for you below that you can print out (perhaps on sturdy cardstock) and use to make your own tangle star ornaments.
How to Make Zentangle-Style Stars
MATERIALS
INSTRUCTIONS
Step 1: Draw Star
If using plain card stock, draw a star freehand or use the printable stars as a template.
Step 2: Divide Star Into Sections
Use markers to draw lines between the points of your star.
Step 3: Add Tangle Designs
Fill in each section of the star with different tangle style designs. Or simply color and decorate as desired.
Step 4: Cut Out Stars
Cut out the stars and use as ornaments, gift tags, or decorations.
We haven't turned ours into ornaments yet, but will punch a hole at the top, add a loop of string, then hang them on our tree.
You can also use this technique to make Zentangle-style Christmas trees, holiday ornaments, animals, or anything else.
Download the Tangle Stars Printable to use with your kids!
Again, thank you to Magic Stix for sponsoring this post and for sending us their markers to try out! All opinions expressed are my own.
Pin It for Later