How to build a walk in gingerbread house for kids from a Fort Magic kit! Fun ideas and inspiration to make your own Christmas fort.
The kids are excited that we have a walk in gingerbread house in our living room.
They made it in an evening from our Fort Magic kit—I'll include a fun video below—and then we decorated it together with fabric, felt candies, lights, and tulle ribbon icing. I think Daphne and her friend Emily, the two 7-year-olds, were ready to move in at the end of the evening.
I'll show you the details, but first, I wanted to say thank you to Fort Magic for sponsoring this post. As always, all opinions expressed are my own.
We've made so many different forts and structures with our Fort Magic kit over the years and I've shared some of them here on The Artful Parent. I know that many of you have since purchased a Fort Magic kit for yourself your kids.
If you have one, you can follow along and make a walk-in gingerbread house yourself. And if you don't, I'll give you the details about where to buy this seriously awesome open-ended fort kit, as well as a chance to win one for yourself your kids.
How to Build A Walk In Gingerbread House from a Fort Kit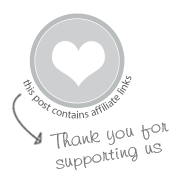 MATERIALS
1 Fort Magic Kit (we actually used less than 1/2 of the kit pieces)
5 yards tan or brown fabric (I bought tan flannel that was on sale for half-off)
A white flannel sheet
Christmas lights
A roll of red tulle or other ribbon
1/2 yard each of red and green felt
White felt (optional)
Glue gun

INSTRUCTIONS
Step 1: Build a basic house with the fort kit
The kids followed the instructions for the Playhouse in the idea booklet that came with the kit.
Here's a fun (speeded up) video of the house being built by the kids. Maia got it started. When Daphne and Emily came home from school they joined in, then took over when Maia left for gymnastics.
Step 2: Cover the Gingerbread House
Next, wrap the tan fabric around the outside walls of the house, clipping them into place with the fabric clips. These are your gingerbread walls!
Drape the white sheet over the roof for the icing covered roof, clipping it into place.
Now it's time to decorate your gingerbread house!
Step 3: Decorate your walk in gingerbread house
Clip a string of Christmas lights around the roof line. These provide beautiful light and can also double as little candies.
Cut candy shapes from your felt. We had a few candy canes and Christmas corn but mostly cut out circle candies that would work as gumdrops, M&Ms, lollipops, etc. With the extra scraps, we made sprinkles.
The felt candies will stick to the sloped flannel roof by themselves, so start there.
I thought they would stick to the walls of the house, too, like a flannel board or felt board, and they sort of did, but also many of them eventually fell off the walls. So… For the candies on the sides of the house, I added a dab of glue from the hot glue gun to the center of each candy one at a time, and stuck them to the walls.
If you like, string tulle ribbon along the edges of the fort for a line of decorative icing. I didn't have to clip this in place but rather just wrapped it around the connector pieces at the corners.
Step 4: Make a Felt Wreath
(Optional, but a nice addition.)
To make the felt wreath, cut of a circle of green felt a bit larger than the circle window at the front of the gingerbread house. Clip it in place at the top and do any trimming needed. Use the clips to wrap the felt around the outside of the pipe structure and hold it in place.
Cut the center of your wreath out.
Now, cut out a ribbon from the red felt. I drew one first with a Sharpie marker which made it easier. Affix it to the wreath with a dab from the glue gun.
Step 5: Decorate Some More
Add any other decorations you feel your gingerbread house needs.
A candy floor?
Real candy taped to the walls? (Daphne raided her Halloween stash for this idea)
Pillows? (the kids made these with paper, staples, and pompoms)
A sign?
A rug or furniture?
Gingerbread boys and girls?
A mini Christmas tree?
Candy canes?
Now you have a walk in gingerbread house to play in for the rest of the holiday season!
Besides acting out any pretend play scenarios, this is a good place to read Christmas books, play Candy Land, wrap gifts, listen to music, take naps, hide…
If you have a Fort Magic kit already, give this walk-in gingerbread house a try!
If you don't, but want one, you can buy a kit on Amazon or from the Fort Magic shop. They are not cheap but they are worth every penny. This is a sturdy, well-made fort kit that can be used many, many different ways, inside and out. It will last for years and grow with your kids. I recommend them to all my friends. Obviously I'm a big fan.
*This post is sponsored by Fort Magic. As always, all opinions expressed are my own.
Pin It for Later