Looking for some fun Christmas giveaways for your family? Here are 12 chances to win 12 creative prizes by 12 family-friendly businesses this holiday.
Would you like 12 chances to win 12 awesome giveaway packages for your kids and family?
In the spirit of giving this holiday season, I invited some of my favorite businesses, products, and past sponsors to participate in our 2nd annual 12 Days of Christmas Giveaways for YOU.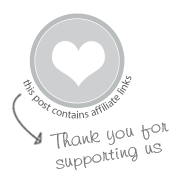 They are each offering incredible giveaway packages valued at $100 or more and you will have a chance to enter each and every one of them and possibly win some great gifts for your kids and products for your family.
Here is the line up of businesses and prizes for the next 12 days.
12 Days of Christmas Giveaways
As the giveaways are published, I'll update this post with links and details. Check back here each day for new chances to win great prizes!
Giveaway #1: Fort Magic
Fort Magic is a life-size fort building & construction kit for kids with unlimited creative potential.
Shop Now: Buy a Fort Magic kit for your family.
Click here to enter The Fort Magic Giveaway!
Prizes: Win a Fort Magic kit + full fabric cover set with accessories

Dates: December 1-7
Giveaway #2: For Small Hands
For Small Hands sells kid-sized tools inspired by the Montessori method. Kids will love incorporating these tools in the imaginative play.
Shop Now: Find child sized tools and products for your kids.
Click here to enter the For Small Hands Giveaway!
Prizes: Two winners will each receive a $50 gift certificate to For Small Hands
Dates: December 2-8
Giveaway #3: OOLY
OOLY creates fun, colorful art supplies and products to inspire creativity in people of all ages.
Shop Now: Check out OOLY's gift guide to find ideas for everyone from toddlers to unicorn lovers.
Click here to enter the OOLY Giveaway!
Prizes: Win a package of OOLY art supplies, including paint sticks, a scratch art kit, gel crayons, sketchbooks and more – valued at $100!

Dates: December 3-9
Giveaway #4: Kid Made Modern
Kid Made Modern sells art supplies and craft kits with the mission of giving kids opportunities to feel their creative spark, and to be imaginative, self-expressive, and resourceful.
Shop Now: Find a craft kit that your child would love to receive and explore!
Click here to enter the Kid Made Modern Giveaway!
Prizes: Win a massive craft giveaway featuring 16 items valued at over $200 retail!
Dates: December 4-10
Giveaway #5: Faber-Castell
Faber-Castell creates unique creative activities and products for children and adults with the goal of enriching lives through creativity and self-expression.
Shop Now: Find children's art supplies and kits to inspire creative activity.
Click here to enter the Faber-Castell Giveaway!
Prizes: 3D Sand Painting Kit, Coloring with Clay, Learn to Watercolor Set, Alphabet Flash Cards, Dot a Design, 12 count Gel Crayons, 24 count Beeswax Crayons, and a 12 count Connector Paint Set from Faber-Castell's Premium Children's Art Products, valued at over $115!
Dates: December 5-11
Giveaway #6: Plum Print
Plum Print makes it easy to turn your children's masterpieces into beautiful, bound books.
Shop Now: Order a Plum Print shipping kit to get started. Use promo code ARTFUL20 for our exclusive, one-time $20 OFF discount.
Click here to enter the Plum Print Giveaway!
Prize: Win a bound book of your child's artwork – valued at $125!
Dates: December 6-13
Giveaway #7: Imagine Childhood & Sarah's Silks
Imagine Childhood sells quality toys, real tools, and educational supplies for kids and families.
Shop Imagine Childhood Now: Check out Imagine Childhood's 2018-2019 Lookbook for 200 pages of inspiring and thoughtful gifts, our largest collection yet!
Sarah's Silks sells playsilks, dress-up accessories, and open-ended toys so kids add their imaginations to their play!
Shop Sarah's Silks Now: Check out their stocking stuffers and holiday gift sets for creative play. Use discount code ART15 for 15% off.
Click here to enter the Imagine Childhood + Sarah's Silks giveaway!
Prize 1: A $100 gift certificate to shop Imagine Childhood.
Prize 2:

A $100 gift certificate for use on the Sarah's Silks website.

Dates: December 7-10
Giveaway #8: Pipsticks
Pipsticks is a subscription sticker club for kids and crafters. Their mission is to deliver the world's coolest stickers to sticker lovers all over the world.
Shop Now: Click here to give the gift of a sticker subscription to a child (or adult) in your life. Use code ARTFULPIP to take 50% off the first month of any sticker club subscription.
Click here to enter the Pipsticks Giveaway!
Prizes: Pipsticks Sticker Collection book + a $50 Pipsticks gift card.
Dates: December 8-15
Giveaway #9: Roost Books
Focusing on the areas of cooking, creativity, family, and nature, Roost Books publishes books that bring inspiration, warmth, and connectivity to our everyday lives.
Shop Now: Click here to find creative books for your family. Use discount code Holiday30 to take 30% off any titles on the Roost Books website through January 1st (excluding gift cards).
Click here to enter the Roost Books giveaway!
Prizes: Win a package of 7 books for families, including Stars: A Family Guide to the Night Sky, Feeding a Family, and The Artful Parent.
Dates: December 9-16
Giveaway #10: Raddish Kids
Raddish is a monthly cooking club for kids
ages 4 – 14+, created with the mission to deliver culinary experiences that nurture kids' confidence in the kitchen and beyond, while mixing in education, family time and fun.
Prizes: 2 winners will each win a 3-month subscription to Raddish Kids
Dates: December 10-17
Giveaway #11: The Artful Parent
That's me! At The Artful Parent, we believe that creativity helps kids and families thrive.
Shop Now: You can purchase my books, The Artful Parent and The Artful Year, on Amazon
Click here to enter The Artful Parent giveaway!
Giveaway #12: Kids Art Club
The Kids Art Club makes it easy for you to foster creativity at home, provide fun activities, and rock at parenting with art instruction videos, drawing prompts, and printables.
Get on the Wait List: The Kids Art Club will open for enrollment again in 2019 but you can get on the wait list here and be the first to be notified when enrollment opens again.
Click here to enter the Kids Art Club giveaway!
Prizes: 2 winners will each receive a 1-year membership to the Kids Art Club for their families.
Dates: December 12-18
What do you think? Isn't that an AWESOME line up?
Enter the Christmas Giveaways
Check back here on The Artful Parent each day of the 12 Days of Christmas Giveaways for a chance to win amazing prizes and gifts for you and your family!
Note: Many of the winners to my past giveaways have said things like, "Wow, I never win anything!" and "This is the first time I've ever won anything!" so even if you haven't won a giveaway in the past, I encourage you to enter. I keep the rules simple: leave a blog comment and check the box on the Rafflecopter widget saying that you want to enter the giveaway. That's all.
I hope you enjoy this fun series! And let me know if it's something you'd like to do again in the future!
Pin It for Later