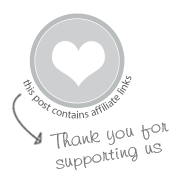 Thanks to Craftsy for sponsoring this post. As always, all opinions expressed are my own.
The kids and I have been drawing more lately, using a free Craftsy eGuide on illustration basics as our inspiration for some of the activities.
We've been practicing drawing emotions, making line drawings, and experimenting with different methods for coloring illustrations.
The eGuide is called Ready, Set, Draw! Illustration Basics for Beginners and was created by David Huyck and Jessie Oleson Moore.
Despite beginning with, "there is only one simple trick to improving your drawings—you need to draw more," Huyck and Moore include plenty of concrete tips for improving your drawings.
I especially like the sections on developing characters…
Develop a character's basic form, then try out extreme versions to make it memorable. Try a huge head and small body, give it long legs, try a different eye, nose, or mouth shape.
…and doing expression studies.
Subtle changes can be expressed by eyebrows or mouth. Also, "making the face you're drawing is surprisingly effective."
Here's the full table of contents for this drawing guide ::
Improve Your Illustrations With This One Simple Trick
A Primer on the Best Paper for Illustration
A Foolproof Methodology for Developing Characters
6 Tips for Creating Emotive Characters
Adding Movement to Your Artwork
7 Different Methods for Coloring Illustrations
The Art of Restraint :: How to Know an Illustration is Finished
Meet the Experts
Want to learn all this good stuff? Or help your kids learn it?
Then this free eGuide might be for you.
Ready, Set, Draw! Illustration Basics for Beginners
Click here to download the drawing guide
If you and/or your children would like to improve your drawing and illustration skills, this is a fun guide to work with.
Here's one drawing activity we did, inspired by the guide, that the kids especially enjoyed…
For the section on learning different methods for coloring illustrations, we each made one or two line drawings with a black pen with the idea that they would be used somewhat like coloring sheets. Then we photocopied them so that each of us ended up with the entire set of black and white drawings.
We colored some in with colored pencil.
Some with marker.
And some with watercolor paint. (For these, we photocopied the original drawing onto watercolor paper.)
We all liked the watercolors the best out of the methods we tried (although we have yet to try acrylics or digital coloring this way).
Here's Maia's watercolor over a line drawing of a house that I did (above).
And my watercolor over Daphne's line drawing of an ice cream and cupcake party.
Overall, I'd say that we got a lot out of this Ready, Set, Draw! eGuide and think that the ideas are readily accessible to families and kids. It's free, so give it a try!
My kids were especially into Jessie Oleson Moore's illustration style (and her cupcakes with faces) but I have to say that David Huyck sounds like my kind of person. He says, "I love art stores. I call them toy stores." and that he used to draw on the floor with his brothers as a kid, "passing an Ed Emberley book back and forth for ideas."
More Craftsy Drawing Guides and Classes 
(my reviews and experiences)
This post was sponsored by Craftsy; all opinions expressed are my own.
Pin It for Later ::